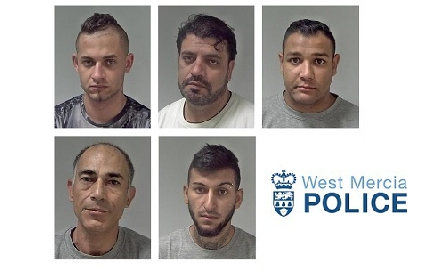 Six men have been convicted for conspiracy to apply a corrosive substance at Worcester Crown Court today following a six and a half week trial. They will serve a combined total of 78 years in jail.
The following defendants were found guilty by unanimous verdict:
Saied Hussini , 41, of Wrottesley Road, Harlesdon, London, was sentenced to 14 years in prison
Jabar Paktia, 41, of Great Hampton Street, Wolverhampton, was sentenced to 12 years in prison
Norbert Pulko, 22, of Sutherland Road, London, was sentenced to 12 years in prison
Jan Dudi, 25, of Cranbrook Road, Birmingham, was sentenced to 12 years in prison
Adam Cech, 27, of Farnham Road, Birmingham, was sentenced to 12 years in prison
*A 40-year-old man, who cannot be named for legal reasons, from Wolverhampton, was sentenced to 16 years in prison.
One woman has been found not guilty for conspiracy to apply a corrosive substance during the same trial:
Martina Badiova, 22, of Newcombe Road, Birmingham
The incident took place on Saturday 21 July at around 2.45pm. A three-year-old boy was seriously injured in an acid attack in Home bargains on Shrub Hill Retail Park, Tallow Hill, Worcester.
While the young boy was looking at footballs with his brother, Adam Cech sprayed acid on him.
Following the incident, the boy immediately ran to his mother who could not understand why her son was so distressed and started to look around the immediate area to see if something had fallen and hurt him.
With the assistance of staff in the shop she called for the emergency services; and the boy was treated at the scene by paramedics before being taken to hospital where he was treated for serious burns to his arm and face. He has since been discharged but was left scarred for life as a result of this attack.
Superintendent Damian Pettit for Worcestershire said: "This was a horrific attack on an innocent young boy, whose scars will prove a constant reminder of that awful day. I am pleased that justice has been served today and that six perpetrators will spend a combined total of 78 years in prison.
"Acid attacks are rare, particularly so in the county of Worcestershire and for a three-year-old boy to be the victim of such an attack is inconceivable. It is hard for the family, the officers, and the community to comprehend how a family member could organise an attack of this nature on such a young child.
"The officers working on the initial investigation were exceptionally fast and thorough in their enquiries, working through the night to make the first arrest within 12 hours of the attack. They did not stop at this and continued to gather intelligence until seven people were arrested and charged.
"All the officers involved have shown great dedication throughout the investigation and I am very proud of these officers for their hard work.
"I would like to take this opportunity to thank them for their efforts, and to thank the local and wider national community for sharing far and wide the CCTV image appeal that helped to track down those pictured.
"I would also like to reassure the community we will work hard to ensure Worcester remains a safe place to work, live and to socialise.
"The trial itself has been complex in nature due to the rare challenge of there being seven defendants, each with their own legal representation.
"It will take a great deal of time for the young boy and his family to come to terms with what has happened and we will continue to support them in moving on from this ordeal and re-building their lives.
"We hope that now the perpetrators are behind bars, the family can start to focus on the future, and I think I can speak for everyone at West Mercia Police in saying we wish them a healthy and happy future."