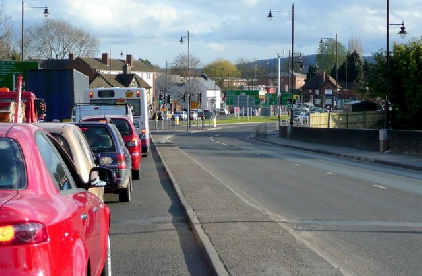 Herefordshire Council leaders have revealed a procurement failure meant they would not have been able to award the contract to build the £27m southern link road in Hereford.
Senior councillors within the Independent, It's Our County and Green alliance administration were briefed about the problem when they came into office after elections last May.
Finance officers raised concerns over an issue with the procurement process for the planned road which would connect the A49 Ross road with the A465 Abergavenny road.
Council leader David Hitchiner said: "When we started the administration, we had a couple of cabinet meeting briefings in which we were told categorically that we could not place the contract for the road.
"The reasons for that have gradually emerged over time. We couldn't do it with the winning bidder because that company would not satisfy value for money criteria.
"To be fair all round, when the tendering went out that company was of a sufficient size to have won the contract but by the time the tender process had been completed their turnover was too low to justify giving it to someone and what you don't want is a half-built road where the council has to then carry on doing it at a greater price with somebody else.
"It came as a shock to us because it couldn't got to the main bidder but it also could not be placed with somebody else as it would have been in breach of contract."
Finance and corporate services cabinet member Liz Harvey said the council's finance officer had not been aware of the tendering problem until February 2019.
"Although officers within the council had been aware of it back as far back as July 2018.
"The section 151 officer had stated very clearly at the end of the last administration that he would not support the award of the contract to the tenderer that the administration wanted to give it to who were not the tenderers who scored most highly on the assessment framework that had been used during the process.
"He said there was no justification for that and that would be an unsound decision that would leave the council open to legal challenge."
Conservative councillor Nigel Shaw, former finance cabinet member, said that had his group won the elections and remained in power they would have restarted the procurement process last May.