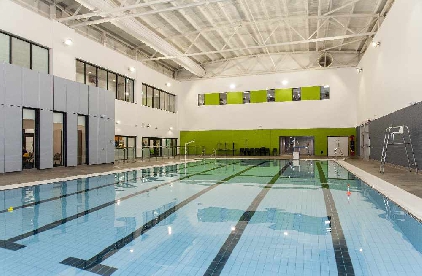 Monmouth's eagerly-awaited swimming pool and health spa opened to the public today.
The new facilities set high standards for leisure provision in the county and beyond, offering an ideal opportunity for users of all ages to relax and have fun as well as achieve their fitness goals.
The leisure centre – now known as Monmouth's Premier Leisure Facility – closed for refurbishment in November 2017 but re-opened last August to offer a large gym, spin studio, toning suite, spacious changing rooms, a children's play centre, open plan café and a multi-purpose room for parties and meetings as well as relaxation areas, all featuring the latest market-leading equipment.
Meanwhile, the council has worked tirelessly to unveil the second phase of the £7.4m refurbishment with a brand new, state of the art five lane 25 metres swimming pool, beauty treatment rooms and a health spa.

The original pool was only 20 metres long so the new facility will present improved options for bathers. The first to dip his toe in the water was Jim Saunders of Coleford who was invited as the last person to swim in the original pool. Jim is a very keen swimmer and looks forward to visiting on a regular basis.
The health spa features a jacuzzi, sauna and steam room while the treatment rooms offer the highest quality facials, manicures, pedicures and massage provided by a team of three headed by beauty therapist Vicki Goodway.
Monmouthshire's cabinet member with responsibility for leisure, Councillor Bob Greenland said: "It's a very great pleasure and privilege to celebrate a successful project three years in the making. At a time when other councils were closing leisure centres, we committed to this new modern facility and we now see the fulfilment of our promise to the people of Monmouth and the surrounding areas. Members of the leisure centre's staff have demonstrated faith in a time of uncertainty but they can now look forward to a bright future. I'd also like to recognise the contribution of development specialist Alliance Leisure which has supported the council throughout the project and the ISG construction services company for its wonderful work here in Monmouth."
Councillor Greenland promised a formal opening of the refurbished leisure centre later in the summer after work had been completed in the adjacent comprehensive school.
Monmouth's Premier Leisure Facility manager Nick Butler added: "We've been delighted with the number of people visiting here today and it's great to hear such positive comments."
Sunshine Radio's Gregg Upwards spoke to Councillor Greenland: