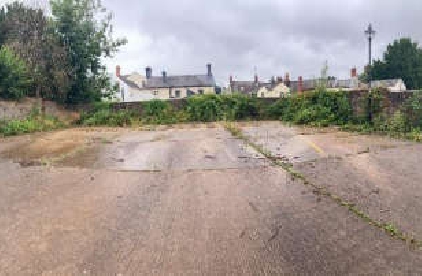 A bid to use the former recycling centre in Usk for markets, community events and parking is one of several being considered by Monmouthshire County Council.
The county council closed the waste centre in Maryport Street North Car Park to cut costs and improve its recycling rate, amid opposition from residents.
It subsequently advertised the site for sale, with a deadline for bids closing on September 17.
Usk Town Council, which opposed the decision to close the centre, has confirmed that it has put forward a bid to use the site as a community facility.
It is understood the non-monetary bid is one of five to have been shortlisted by the county council, of 18 which were submitted.
Cllr Steve Williams, deputy mayor of Usk, said the bid submitted by the town council would see the site used for pop-up markets, small community events and for additional parking on days it is not in use.
"The thinking is to retain it as a town community facility," Cllr Williams said.
"It was a community facility that was taken away, primarily for financial reasons, but we would like to retain that space.
"We feel that it should remain in the public domain to encourage more local use."
Cllr Williams said the town council would invite residents to put forward suggestions for community uses at the site if it is successful in its bid.
Pop-up markets, craft stalls and small community events could be held under the plans.
On non-market days the site could also accommodate additional parking for residents in the town.
"The idea was that it would have a use seven days a week," Cllr Williams added.
"We firmly believe that it should remain as a community asset and not a private asset."
Town councillors received an update on the bid submitted at a meeting on Monday.
Tracey Huxley, town clerk at Usk Town Council, said: "Usk Town Council has put a non-monetary bid in, as we consider we can use the area for markets and for the town."
A spokeswoman for Monmouthshire County Council said: "The future of the former Usk recycling centre site is yet to be determined and is still under review.
"Any decision to dispose of the site or consider alternative uses would be subject to a full report being discussed by full cabinet."