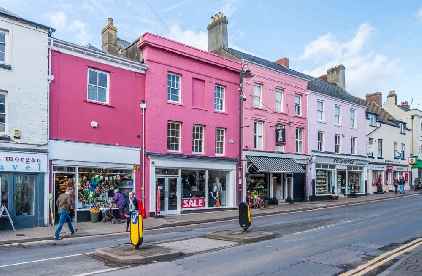 © Copyright Ian Capper and licensed for reuse under this Creative Commons Licence.
Monmouthshire County Council has submitted bids to the UK government Levelling Up fund to support the investment in projects to improve infrastructure and regeneration in Monmouth and Caldicot.
The Levelling Up Fund is a £4.8 billion fund administered by the UK Government and is to be used for infrastructure that improves everyday life across the UK, and supports town centre and high street regeneration, local transport projects, and cultural and heritage assets.
In Monmouth, the projects include the creation of a modern visitor attraction and community asset within the Shire Hall, major investment in Monnow Street and Blestium Street to enhance the public spaces whilst modernising the public facilities and reimagining how the Market Hall may become an asset for businesses and the community in the future.
In Caldicot, the projects include the modernisation and upgrading of the leisure centre, acquisition and repurposing of a major retail block in the town centre and creating an enhanced public area in the town centre, and the active travel links to the centre. Each bid is a multi-million pound package that would bring much needed investment to the towns.
Local MPs have lent their support for Monmouthshire's bid, with David Davies, MP for the Monmouth constituency and Jessica Morden, MP for Newport East Constituency, endorsing the submission.
Jessica Morden commented "The bid is an opportunity to bring funding to some fantastic projects that will greatly improve Caldicot for residents, businesses and visitors. Having seen the presentations on the future plans, I am very pleased to formally endorse the proposals".
David Davies, MP for the Monmouth Constituency, has also backed the submission writing to the Minister in support of the bid. David Davies commented "I am delighted to endorse the submissions for the Levelling Up Fund. If successful, this funding will make a significant difference to Monmouth and help improve the infrastructure in the town and what the town has to offer to visitors, residents and businesses."
Councillor Richard John, Leader of Monmouthshire County Council, has praised the work undertaken by the officers in preparing such high quality bids that address some of the fundamental priorities highlighted for the town. He added: "I am impressed by the submission to the fund and equally by the universal support offered by representatives of the community, not only in Westminster but also at the Senedd and by leaders more locally. This investment would make a huge difference to the future of the towns."