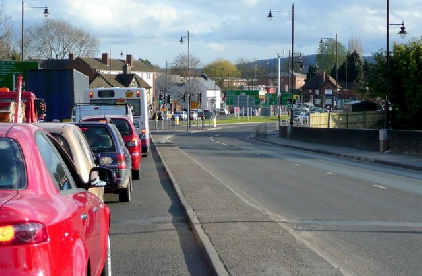 Herefordshire Council is expected to set out a masterplan of how to solve the county's traffic problems in the next few months.
Councillors say they can now consider new transport policies after they decided to drop the previously planned western bypass and southern link road projects in Hereford.
Cabinet members want to explore the possibility of building a road that connects Rotherwas with the Ledbury Road.
The idea behind this is that it would help alleviate congestion in the centre of the city by providing an alternative road crossing over the River Wye.
But one of the key features in the council's thinking regarding transport is about providing citizens with different ways of travelling.
Councillors hope that by making it more appealing to cycle or use public transport this will reduce the reliance of motor vehicles in the city.
They believe this could be achieved as most car journeys within Hereford are estimated to be travelling a distance of around 1.2 miles according to their data.
So the council will explore improvements to the bus network such as the introduction of segregated cycleways and an electric hopper bus service.
The council will also look at removing traffic lights at pinch points across Hereford.
Roundabouts may be a better solution to ease congestion at these junctions.
The council is expected to open up a consultation for the public to offer advice and suggestions about how the transport network needs and could be improved.