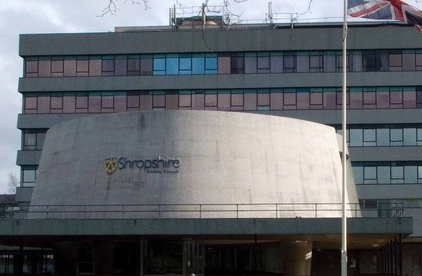 Almost £10 million of coronavirus grant funding available to Shropshire businesses will be returned to central government after it was left unclaimed.
Shropshire Council was given £91.7m to distribute, of which £81.9m was paid out to a total of 7,835 firms affected by the pandemic.
The council asked local government secretary Robert Jenrick for "greater flexibility" in the grant criteria at a meeting last June, but a new report detailing the impact of the crisis on the county's economy confirms the money will have to be handed back.
In contrast, a separate £5.3m discretionary grant scheme saw almost all of the funding awarded, with just £20,500 to be returned.
The discretionary programme supported 883 business unable to access the original grants, as well as 17 town areas.
The council has been given a further £13.2m to support businesses impacted by the latest lockdown restrictions.
Meanwhile the Marches Local Enterprise Partnership (LEP) also stepped in to help the business enabling sector, including financial services, creative industries and consultants.
A total of 94 grants were awarded totalling £570,000, while a further £167,000 was given to market towns to fund measures to attract shoppers and visitors back to the area.
Shropshire has also been allocated £240,000 of Marches Small Business Recovery Grant funding, with grants of £1,000 to £3,000 available.
The report sets out plans for the council to produce an 'economic recovery, transformation and resilience framework' to guide the development of a new economic growth plan.
The report, by the council's director of place, Mark Barrow, and head of economic growth, Hayley Owen, says: "The framework will set out a clear and detailed narrative on how Shropshire is well-placed to support and grow its natural assets and businesses, in order to refocus economic growth over the next few years.
"The framework will essentially support the development of a new economic growth plan to be directed at government, businesses and investors with the aim of setting out Shropshire's growth opportunities and how to maximise these to create new jobs, employment opportunities to benefit residents and businesses of Shropshire."
The framework will look at planned short, medium and long term interventions to grow Shropshire's economy.
Key themes identified include business and employment growth, visitor economy, digital skills and the commercial property market.
It will also take into consideration the "wider economic context", including the impact of Brexit, digital infrastructure and the green agenda.
The report will be discussed by the council's cabinet at a meeting on Monday, January 18, when members will be asked to agree to the development of the framework.
The resulting economic growth plan will then be brought back to cabinet for consideration later this year.