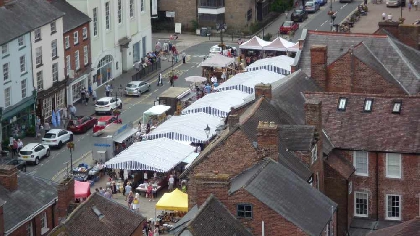 Traders at a popular town centre market have been the number of pitches will not increase due to their failure to comply with rules around face coverings and hygiene.
Ludlow market has been operating with a reduced number of stalls, a one-way system and social distancing measures since June 8 but some traders have been criticised for not adhering to the new regulations.
Ludlow Town Council upped the number of pitches from 20 to 30 at the beginning of July, but at a meeting on Monday refused to increase the number again to 35.
Councillors also rejected the idea of extending the rent respite that had been granted to the traders, saying it was not fair to pass the burden onto the townspeople in next year's precept.
The five extra pitches being proposed would have been located on the side of the market facing Castle Street car park, bringing that row back up to full occupancy.
Market officer Tony Caton told councillors social distancing among traders had been easy to establish and added: "There is no reason why we can't use these five extra stalls as soon as possible."
But town clerk Gina Wilding said there had been multiple reports of certain traders failing to comply with the new rules.
She said: "I have had incidents reported from the market manager and from other people that there have been a number of market traders who have not been wearing their visors and the evidence of hand sanitiser on the stalls has not always been there.
"Since it has been brought up with the traders it has improved but there is not a complete compliance and there doesn't seem to be a total willingness from all the traders – I can't tar them all with the same brush, some are excellent – but there are a significant number who have to keep being reminded."
Councillor Glenn Ginger proposed keeping the market to 30 stalls at least until the next full council meeting on September 7.
He said: "If the market traders will not adhere to the rules, how can we make it bigger?"
Councillor Viv Parry said: "These people should not be allowed to have five more stalls when they are not doing what we have asked them to do."
Members voted not to increase the number of stalls, with only Councillor Graeme Perks supporting the idea.
Mayor Tim Gill said: "I have been desperate to get the market up and running but I was bitterly disappointed last week to see the way it was happening. There were 11 traders who weren't wearing masks or any protection."
Following the meeting, Shropshire Councillor Andy Boddington, who represents Ludlow north, said he was disappointed with the decision of the town council to "punish" the whole market for the actions of a few.
He added: "If a market trader is refusing to obey the instruction to wear a mask or visor, they should not be allocated a stall on future markets.
"There is a queue of traders waiting to ply in Ludlow's historic market square. We should make the most of one our town's most important assets."
It was also proposed in a report by the clerk that rent-free trading, which had been offered by the town council since before the market closed at the start of lockdown, continue for the rest of August, followed by one month of half fees in September.
But this was also rejected by members, with Councillor Ginger saying: "The longer we extend subsidising the market, every other rate payer in town is going to have an impact next year on their precept.
"We haven't got money to give away."
Councillors voted unanimously to begin charging traders half rent for August and increase this to full rent in September.