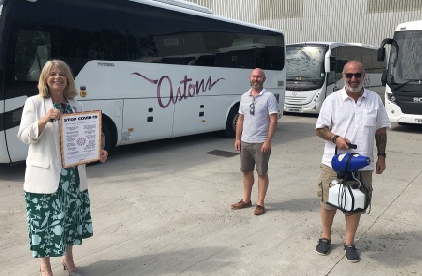 A Worcestershire bus company is investing thousands to make bus travel as safe as possible for commuters, tourists and school children.
Astons Coaches has introduced a range of technologies including anti-viral fog machines for its fleet as the business attempts to re-start after the Covid-19 lockdown.
And West Worcestershire MP Harriett Baldwin was briefed on the measures the company has taken to keep bus travel as safe as possible ahead of the return to school next month.
Most of the Astons fleet is parked up at its Earl's Croome depot although the company still runs vital commuter routes, including the Worcester to Upton-upon-Severn route, which was abandoned by First Bus last year.
The company is hoping to put on extra buses to allow pupils to get to and from school safely when the new term starts in September.
Harriett said: "I have had an ongoing dialogue with the Astons management through this coronavirus crisis and have raised their concerns about re-starting their business directly with the Secretary of State for Transport.
"There are a number of formal Government schemes that the company has been able to access and the county council has continued to pay for their contracts throughout this period of lockdown when schools were not able to be fully open.
"With restrictions in place, coach trips holidays have been hit hard and international students have not been able to visit – dramatically reducing the amount of work that the company would usually do during the summer.
"But I have been impressed at the way they are planning for the next school term and investing in the right kit to be ready to ferry children to and from school from September."
Richard Conway, managing director of Astons Coaches, added: " "I have been in the transport industry since 1972 and throughout this whole period we have never experienced anything like this and the effect that it is having on the industry as a whole is very concerning.
"I am so proud and thankful to all of our staff for getting us through these difficult times and working so hard to keep the community together, it really has been a huge team effort."