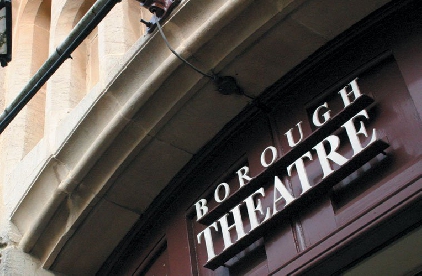 Town councillors will consider the 'implications' of funding a shortfall to refurbish Abergavenny's Borough Theatre after costs increased to more than £1-million.
Monmouthshire County Council, which owns the theatre, has requested an ongoing contribution of £20,000 per year for an initial period of five years from Abergavenny Town Council towards the costs.
The refurbishment includes replacing old seating, updating the heating and cooling system, improving the foyer, increasing the number of toilets, moving the box office and refreshing the backstage area and dressing rooms.
But costs have increased to more than £1-million, from an initial estimate of £400,000, leaving the county council facing a shortfall of £278,943 to carry out the refurbishment.
It has requested support from the town council, which has already contributed £50,000 towards the refurbishment costs to date.
At a meeting on Wednesday, town councillors voiced concern the requested contribution would 'burden' future administrations.
Cllr Tony Konieczny said the town council would consider the request, but he said it was "a big ask" given its own "limited resources".
"It's going to have a big impact on our budget and ultimately paying for this will come from the public," he said.
Cllr Nick Tatam said the town council is already "heavily committed".
"We have committed a staggering amount of our precept to propping up the county council already," he said.
"I think committing future councils to five years of this is just not on."
Cllr Maggie Harris said the financial implications would need to be reviewed.
"I do not think we can burden a future council with paying £20,000 per year," she said.
"It's very important to support it but we must know what we are doing.
"I would be hopeful there is money but I do not think we can guarantee there is."
Cllr Tudor Thomas, mayor of the town council, said there was "a big desire" to help, but that councillors have to be "clear that we are in a position to afford" the contribution.
"I honestly do not think the town council can afford to help them in any way with a capital investment," he said.
"We are just not a big enough authority. We have not got the precept.
"This is a tough discussion because at the heart of it we do really want to help them, but we have got to look at our finances."
A motion, put forward by Cllr Konieczny, to discuss "the implications of servicing this request" at a future policy and resources committee meeting was unanimously supported by town councillors.