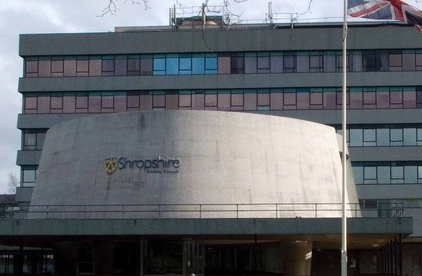 House buyers could be receiving false assurances from Shropshire Council about work carried out to their new properties, it has been revealed.
The council, like other local authorities, charges buyers a fee for carrying out searches of the local land charges register when a house or commercial premises is being purchased.
As part of the process the council certifies that conditions attached to any planning permission or listed building consent granted on the property have been discharged.
The Land Registry says search results carried out by local authorities are "clear and accurate" and represent "the highest level of due diligence".
But county planning bosses have now admitted that the council does not routinely check that work has been carried out in accordance with the conditions before issuing certificates.
Instead, it relies on the honesty of the seller, and vigilance of members of the public in raising concerns about possible breaches.
This could lead to certificates being issued confirming conditions have been discharged, only for buyers to later discover this is not the case.
The issue has been raised with the council by a concerned member of the public who has flagged up several examples of properties being sold with the council having wrongly certified conditions as discharged – including drainage schemes not being installed and work not having been carried out in line with approved plans.
An email response he received from a senior council officer said: "The Local Planning Authority has a team of enforcement officers, which is small, dealing with all planning enforcement matters, including any breach of conditions.
"Ideally, it would be helpful if we had an army of enforcement officers able to drive around Shropshire checking development sites to ensure that development does not go ahead without full compliance of any planning permission, but this is not the case.
"Shropshire is no different to most other planning authorities in terms of resource and has to rely on the public and parish and town councils to advise us if they are aware of any non-compliance."
The resident, who asked not be named, said in one case the council had been informed of breaches by parish councils and neighbours, but "nothing was done", and the council later certified conditions as discharged when the property was sold.
He also fears that some developers are now deliberately not carrying out work stipulated by planning conditions, saving themselves the trouble and cost, in the knowledge the council will not check.
Figures he has obtained through a Freedom of Information request show the council makes around £500,000 a year from buyers for carrying out these searches.
He has now taken the matter up with the Land Registry, saying: "I cannot see how the system can be guaranteed to have the highest level of diligence, and provide clear and accurate search results.
"The only way I can see of resolving this fault in the process is for there to be an officer(s) assigned within local authorities to check that conditions have actually been discharged and are not just a paper exercise."
Ian Kilby, head of planning services at Shropshire Council, said: "The land charges process is office-based and data is checked against relevant enquiries in relation to property searches.
"Any queries raised about the compliance or otherwise of planning conditions can be raised by solicitors on behalf of their clients at the point of sale and the council will look into these matters.
"The responsibility to comply with planning conditions is a matter for the applicant and the council will investigate breaches of planning control where these are raised in accordance with the council's planning enforcement protocol."