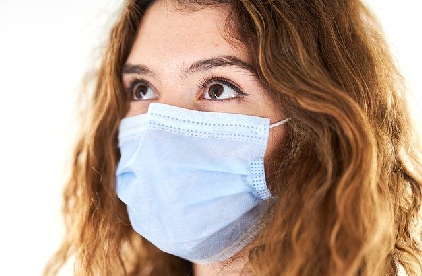 Face coverings will be mandatory for visitors to all Shropshire Council-run buildings from today.
The measures are being put in place to help prevent the spread of coronavirus and to protect the public and staff.
It is already mandatory to wear face coverings in shops, supermarkets, hospitals and on public transport and in transport hubs.
The Government announced on Friday 31 July that the requirement to wear a face covering would be extended to more indoor settings, including museums, cinemas, theatres, libraries and places of worship. It will enforceable in law from this weekend.
Please note face coverings will not be mandatory for anyone under the age of 11 and those with disabilities or certain health conditions, such as respiratory or health conditions that make it difficult for them to wear one. A full list of exemptions can be found here.
A face covering is something which safely covers the nose and mouth.
How to wear a face covering correctly
Wash or sanitise your hands before putting it on
Ensure the covering or mask goes up to the bridge of your nose and all the way down under your chin
Tighten the loops or ties so it's snug around your face
Avoid touching your face, or the parts of the mask that cover your nose and mouth
Wash or sanitise your hands before taking it off
Use the ear loops to take the mask off and wash or sanitise your hands afterwards.
Dean Carroll, Shropshire Council's Cabinet member for adult social care, public health and climate change, said: "Face coverings are designed to keep everybody safe against the spread of infection and I would urge residents to play their part when they are out and about.
"As a council we have a duty to protect our staff and customers, so please remember to wear a face covering when you are visiting one of our buildings, unless you are not required to do so.
"While face coverings play an important role in protecting others, they are not designed to replace the other measures that help to stop the spread of the virus. That is why it is important to still follow the latest social distancing guidelines and practice good hand hygiene at all times."
From 8 August 2020 onwards
Wearing face coverings is already mandatory in supermarkets, shops, indoor shopping centres, banks, building societies and post offices, as well as on public transport.
The public, from 8 August will have to wear a face covering in the following settings:
council buildings
funeral directors
premises providing professional, legal or financial services
cinemas
theatres
bingo halls
concert halls
museums, galleries, aquariums, indoor zoos or visitor farms, or other indoor tourist, heritage or cultural sites
hairdressers, barbers, and nail or beauty salons – other than where necessary to remove for treatments
massage parlours
public areas in hotels and hostels
places of worship
libraries and public reading rooms
community centres
social clubs
tattoo and piercing parlours
indoor entertainment venues (amusement arcades, funfairs, adventure activities eg laser quest, go-karting, escape rooms, heritage sites etc)
storage and distribution facilities
veterinary services
auction houses
For further advice on face coverings, please visit the Government website.