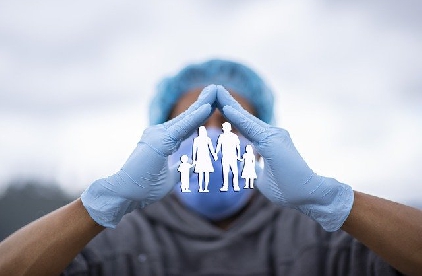 Shropshire Council says the number of people infected with COVID-19 at the Long Lane site in Craven Arms has decreased significantly.
Public Health England (PHE) Midlands says a large number of individuals from the site were tested yesterday. Testing is still available to all residents at the site and the local community.
In a media statement, Shropshire Council said: "The number of people infectious at the Long Lane site has decreased significantly. There are now only seven individuals on the Long Lane site who are being asked to self-isolate after testing positive. Individuals that are contacts of cases are still required to isolate. A large number of residents on the site have now completed their isolation period in line with Government guidance and are no longer infectious."
"Testing for the wider community has been in place since 25 July 2020 and no-one in the wider Craven Arms community has tested positive yet. The total number of positive cases linked to the outbreak at Long Lane is 29."
"We want to reiterate that the risk to the public is low and encourage everyone to play their part by continuing to follow the Government guidelines to reduce the risk of transmission."
As an additional measure, if you are a resident of Craven Arms, and regardless of whether you have COVID-19 symptoms, testing is available. A test site at Craven Arms Business Park is open every day from 10.30am to 3.30pm. Craven Arms residents can book an appointment via NHS Test and Trace online or by ringing 119.
Drop-in testing sessions also took place today at Craven Arms Business Park and the Halo Community Centre.
Rachel Robinson, Shropshire Council's director of public health, said: "Shropshire Council, Public Health England and our partners have acted quickly to prevent and control the spread of the virus. Prompt testing on the Long Lane site has allowed us to understand the transmission and protect the wider community.
"We're aware that local residents are concerned, but the risk to the general public remains low. I am also pleased that the wider Craven Arms community has also taken up the offer of testing.
"As of today (Friday 31 July) it's encouraging that testing of the wider Craven Arms community has not identified any positive cases so far. Testing, tracing and monitoring of the situation continues, and along with our partners we will take all actions necessary to protect public health."
"Most residents at the site have been co-operating, and we would like to thank them for their patience during the past week. We are aware that there have been incidents where individuals who should have been self-isolating have left the site. Shropshire Council and West Mercia Police are now considering taking appropriate enforcement action against those individuals who have breached this guidance. Further enforcement action will be considered where non-compliance with COVID-19 risk has been found."
More information about coronavirus, testing, self-isolation, and social distancing is available from the UK Government website at www.gov.uk/coronavirus