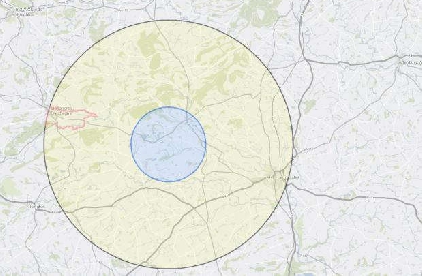 A case of bird flu has been confirmed at site near Shobdon, DEFA said.
All birds where the flu has been found will be killed.
The Department for Environment, Food and Rural Affairs (DEFRA) has issued a map reference which appears to three sheds off Ledicot Lane in Shobdon.
In a joint statement issued this week, the UK's four chief veterinary officers said: "We have taken swift action to limit the spread of the disease and are now planning to introduce a legal requirement for all poultry and captive bird keepers to keep their birds housed or otherwise separate from wild birds."
An order was then made that from Monday to all bird keepers that they must be kept indoors and away from wild birds.
The four officers added: "We have not taken this decision lightly, taking this action now is the best way to protect your birds from this highly infectious disease."
Since November 3, Defra have enforced an Avian Influenza Zone (AIPZ), since a strain of the virus was found in Warwickshire.
Public health advice remains that the risk to human health from the virus is very low and food standards bodies advise that avian influenzas pose a very low food safety risk for UK consumers.