Warehouse Support Operative required at Vimto Ross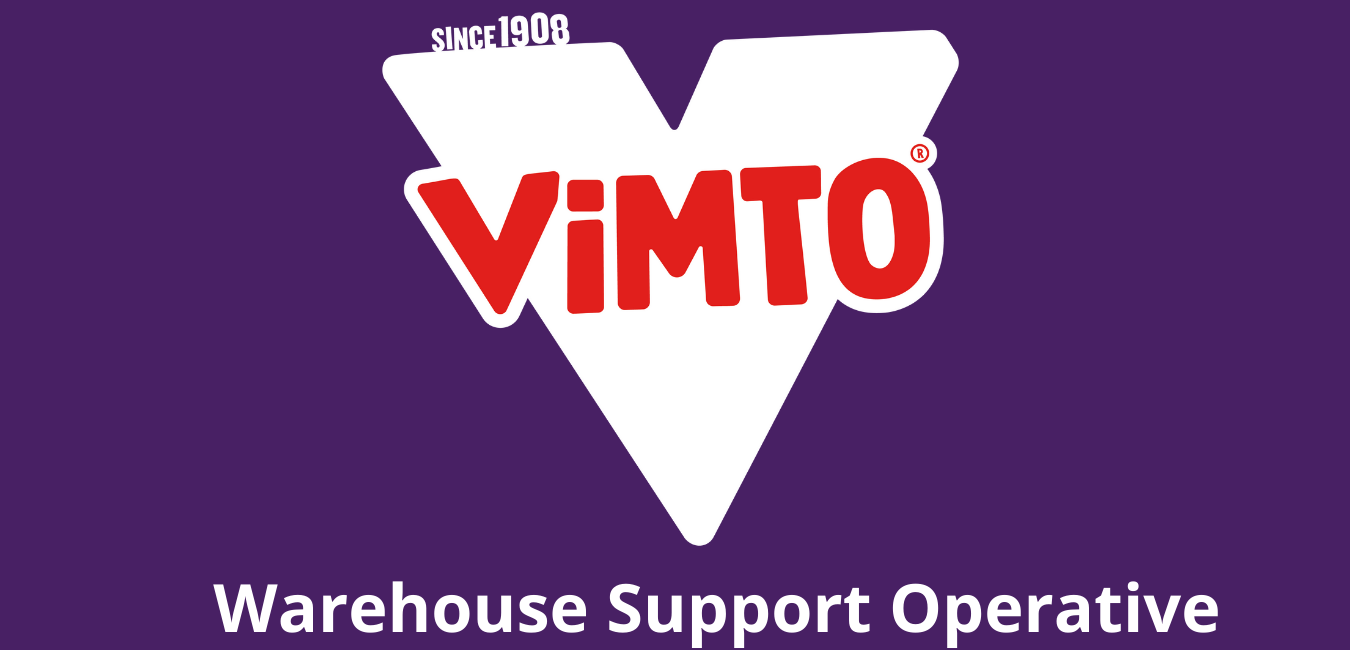 There is no other business quite like ours, we think this is a special place to work, even if we do say so ourselves!
For example, our last survey found 97% of our employees feel we really care about their health and wellbeing and the same number think we have open and honest communication at all levels… That means an opportunity like this is not to be missed.
We have been making life taste better since 1908. As well as our refreshingly different Vimto taste, our varied brand portfolio spans the still, carbonated, post-mix, coffee and frozen drinks categories – so you will find us in your local supermarket, pub and leisure outlet. We also work with the UK's leading food manufacturers to provide a truly unique range of products everyone loves.
Vimto Ross is an exciting part of the manufacturing arm of Nichols plc. We produce and package products from our own brands including Vimto and Sunkist, along with many other well-known soft drinks and mixers.
Operating as part of a small team managing finished goods as they are produced with end of line duties and problem solving to reduce / eliminate downtime from the robot function. Duties will also include managing waste streams including but not limited to effluent plant control and recycling waste. Secondary aspect with supporting the warehouse function in ensuring the production shifts are supported and provided with stock items on time, in full and that deliveries are completed as scheduled. The role of warehouse support operative is important in ensuring stock accuracy, quality and safety at all times.
At the heart of everything is our rich family heritage, an unrelenting ambition to keep innovating, and a true pride in who we are.
Due to continual growth, we are looking for 3 full time Warehouse Support Operatives to join our team of talented people.
We are actively looking for difference and we are working hard to make sure all our practices are inclusive
Working hours
We have an exciting opportunity to join our team, one opportunity working 12 hour nights starting at 6pm and finishing at 6am Monday evening – Friday morning.
JOB ROLE:
• Goods received must be put away correctly in the designated area, scanned into the location through the WMS system and have the correct pallet labels applied. Goods must be rotated with the new being put behind the old and any short-dated goods must be reported to the quality assurance department.
• Ensuring waste effluent water leaving site is within specification for PH, BRIX level and volume. Notifying Team Leaders of any current issues or potential problems.
• Managing the recycling streams on site to keep hygiene standards on target and support any environmental initiatives
• Product information into end of line robot and control of finished goods once produced. Actively controlling and reducing downtime created from any end of line issues.
• Supporting the production team to ensure the site can operate at maximum capacity during peak holiday seasons, at times of increased absence or during break periods.
• Responsible for receiving and despatching goods within the relevant ERP system to ensure live/up to date data. Refer to relevant work instructions. Ensure correct goods receipt process to ensure accurate inventory control.
• Responsible for the safe and correct use of Forklift Trucks and any other mechanical handling equipment as trained. Complete pre-operative checks prior to use and report any issues immediately.
• Report any issues with stock or equipment immediately to your team leader to minimise downtime.
• Dispose of any waste via the appropriate procedures, ensuring any production/stock wastage is monitored and reported.
• Adhere to all requirements in relation to food safety as defined by the company and standards agencies. Understand the company quality and food safety policy.
• Support the completion of any audits or checks for the department.
• Support stock taking activities and comply with stock accuracy procedures.
• Ensure you understand and comply with Health, Safety and Environmental requirements at all times. Report any near misses, incidents or accidents immediately and promote a safe culture.
• Follow all quality processes and procedures, reporting any potential hazards or near misses to promote a culture of right first time.
• Carry out reasonable tasks as requested by the Team Leader or Production Manager in line with department or company objectives.
YOU WILL BE:
• Flexible – shift patterns and business needs can change therefore our manufacturing teams must have an adaptable mindset and be able to work alternative shift patterns as required.
• Proud to be part of the family and committed to doing a great job every day.
• Open to learning new skills and training others.
• Good eye for detail and able to work with accuracy with both manual and computerised formats. Experience of stock systems (WMS, Sage, ERP).
• Robot experience – Able to input data as required and operate controls including safe entry awareness.
• Communicate positively with others – operating as a role model for the Vimto values.
• FLT experience advantageous
BENEFITS:
• Equivalent of 5 weeks holiday (with opportunity to buy extra every year)
• Private medical cover
• Your Birthday off work
• A generous pension scheme
• Annual bonus
Join us and #findyourdifferent
While our people tell us Nichols plc is a great place to work, we know we can do more. We are committed to being an inclusive employer and are learning what this means every day.
We are striving to ensure we are building more diverse teams, we are at our best when we bring together our different life experiences, ways of thinking and individuality.
Any job offer is subject to an individual's Right to Work in the UK. Unfortunately, we are unable to sponsor visas.
To Apply Please Click HERE

Hereford

Medium-level cloud

High: 4°C | Low: -5°C

Ludlow

Medium-level cloud

High: 3°C | Low: -3°C

Abergavenny

Sunny intervals

High: 4°C | Low: -1°C

Monmouth

Medium-level cloud

High: 4°C | Low: -3°C