Sunshine Radio Motorshow 2019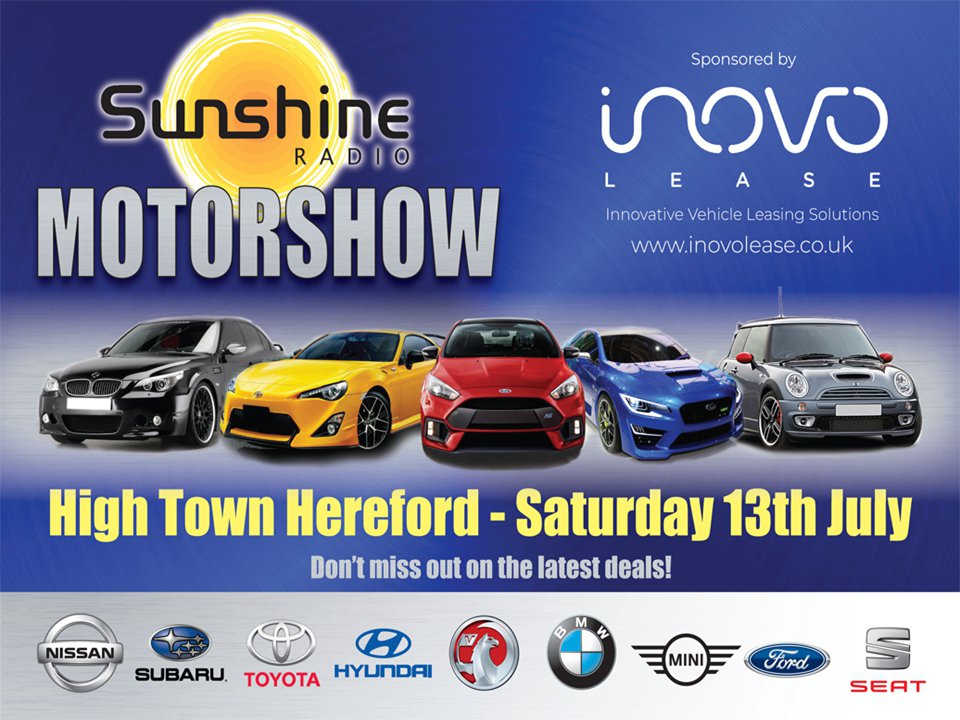 Sunshine Radio's Motor Show sponsored by Inovo Lease returns on Saturday the 13th of July to the centre of Hereford!
With leading car brands showcasing the latest models including:
Nissan, Vauxhall, Ford, BMW, Mini, Subaru, Toyota, Seat, Hyundai and more.
Come along and check out the deals, book a test drive, get the latest advice on car tech from the professionals, and you might just treat yourself to a brand new car!
Plus, get in pole position and try out our full size F1 simulator! Based on the 2.4 litre V8 model, this simulator is the most realistic feel you'll get to the actual F1 wow factor. Pretend to be Lewis Hamilton, aim for the fastest lap and you're in with a chance to WIN a family ticket to the Touring Car Championship in September held at Silverstone.
Sunshine Radio's Motor Show 2019, Saturday 13th July in High Town, Hereford with Inovo Lease.
You can lease a brand new car for less than you might think see www.inovolease.co.uk
For business & personal leasing for all makes and models see www.inovolease.co.uk
Hereford

Low-level cloud

High: 4°C | Low: -4°C

Ludlow

Sunny intervals

High: 4°C | Low: -3°C

Abergavenny

Low-level cloud

High: 5°C | Low: -1°C

Monmouth

Low-level cloud

High: 5°C | Low: -2°C