Gone in 60 Seconds with Gravells of Abergavenny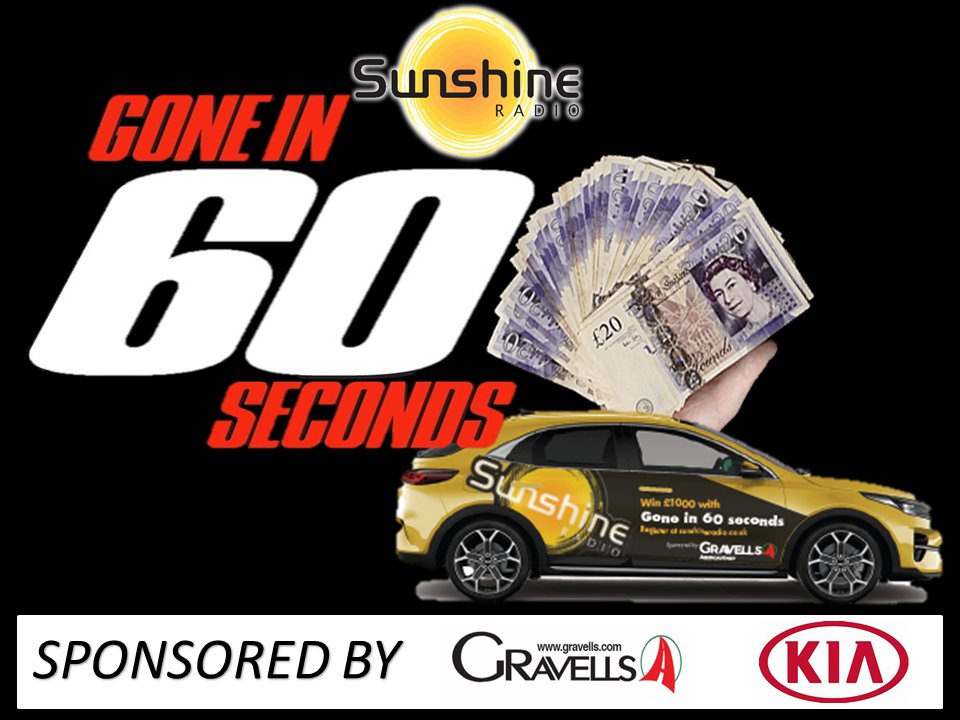 How would you like to have £1000 cash in your hand this Christmas?
Now you can thanks to our friends at Gravells Kia Abergavenny!
You could win big this Winter by registering on the form below, to play 'Gone in 60 Seconds' - where we could be turning up outside your door LIVE ON THE RADIO!
Listen out all day for when we'll reveal where the 'Cash Kia' is, and you'll have 60 seconds to dash out and get in the passenger seat before the clock stops.
The Grand Final will take place on December 14th in Gravell's brand new Kia Showroom in Llanfoist Abergavenny.
To play just register your details in the form below by Midnight on Sunday 24th November, let us know your location (including postcode), date and time and £1000 cash could be yours just in time for Christmas. Thanks to Gravells Kia Abergavenny & Sunshine Radio!
Please take a moment to read through the Ts & Cs below and then register your details:
Terms and Conditions:
All participants must be over 18
All participants must register their full details on the website to take part.
All participants must be available to play the contest between the hours of 08:00 and 16:00 hours weekdays during the contest run.
Participants are required to listen to the radio live to hear if the 'Cash Kia' has turned up outside their stated location during contest hours.
Participants have 60 seconds to make their way to the 'Cash Kia' and enter the passenger seat. 'Special circumstances' will be taken into consideration and the 'Cash Kia' driver may allow participants unable to enter the vehicle to mark their arrival verbally with the presenter on air upon their safe arrival.
No cash will be present in the vehicle.
The 'Cash Kia' may turn up at the stated location at any time between 08:00 and 16:00 hours. Please specify which time and day is most convenient to play. Days of play are: Monday 25th till Friday 29th November and Monday December 2nd till Friday 6th inclusive.. Failure to make it to the 'Cash Kia' within the allotted 60 seconds will forfeit a place in the final.
The contest final will take place at Gravells Kia Showroom Abergavenny on December the 14th. All entrants must be available to attend on this date between 10:30 and 12:00 hours.
The contest final will be a random draw. No skill element will take place.
You MUST pre-register to take part in the competition
The judges decision is final.
Sunshine Radio general T&C's supersede all contest rules.
IN ASSOCIATION WITH:

Hereford

Low-level cloud

High: 6°C | Low: 3°C

Ludlow

Low-level cloud

High: 5°C | Low: 4°C

Abergavenny

Low-level cloud

High: 6°C | Low: 5°C

Monmouth

Low-level cloud

High: 6°C | Low: 5°C