Discounted Nozstock: The Hidden Valley 2019 tickets. * Fri-Sun + Camping
£148.10
£80.60
Sold Out
Remaining: 0
Nozstock: The Hidden Valley is back for its 21st season this summer
Following on from last year's 20th anniversary, the independent festival now reveals its first wave of artists
Joining Nozstock this summer so far includes Rudimental, Hollie Cook, Elvana, Oh My God! It's The Church, Henge, Jam Baxter, DJ Zinc, Turno, A Skills, Randall, Hospitality Takeover and loads more

The theme for this summer is The Wizard Of Noz

Festival takes place across an idyllic working farm set in beautiful countryside

Nozstock runs from Thursday 18th – Sunday 21st July 2019
For full festival info go to:

www.nozstock.com
Nozstock is one of the UK's longest running festivals - family-run, very much home-made and proudly independent on a beautiful working farm set upon rolling hills.
The Nosworthy family continue to curate one of the UK's finest emporiums of music, arts, food and drink, with a huge focus on keeping all kids and families entertained in the Little Wonderland Kids Area.
It's a gloriously eccentric, wildly imaginative and decadently off-kilter brain-shift with incredible detail at every turn, a small festival with a very big heart which continues to chart its own path, far away from commercialisation and following the flock. Nozstock is a transcendental experience which creates its own sense of unity and escapism from the real world for a few precious days.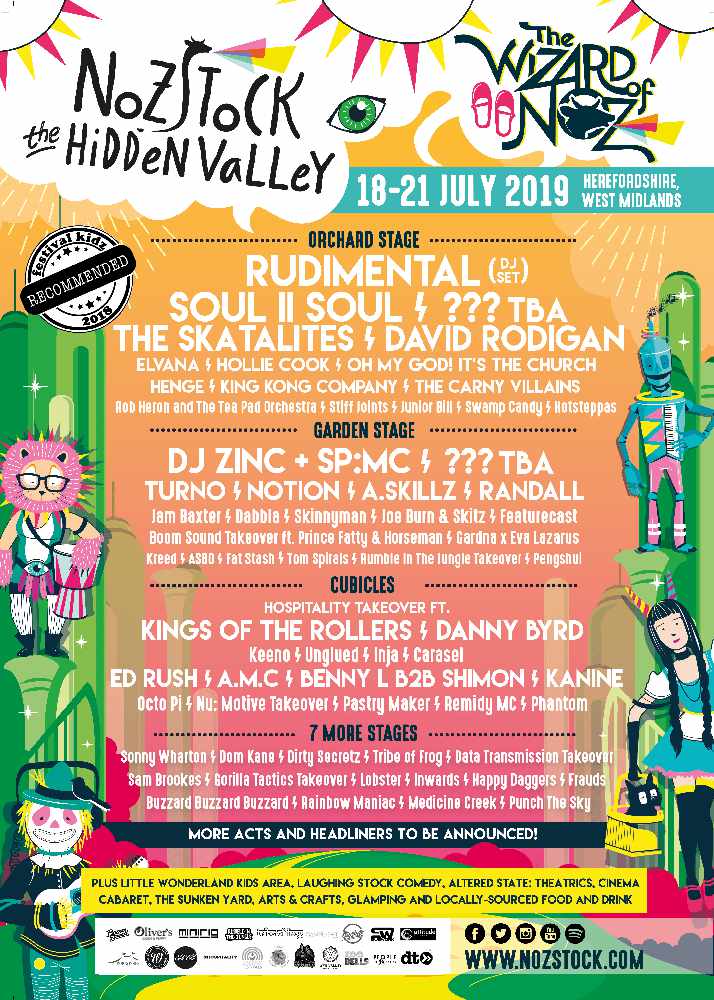 Voucher Terms and Conditions
These are non-refundable
Ticket holders must be 17+
They can't be sold on
Maximum of 2 per customer
Must be claimed by 20th June 2019
Friday to Sunday to include camping
Once ticket is purchased. Sunshine Radio will contact you within 14 days of purchase to arrange collection of tickets
Please note: By purchasing a ticket you are agreeing to Sunshine Radio and Nozstock to use your personal details to contact you
Got a query about purchasing or using a voucher from our shop? Below are some frequently asked questions and answers about the Sunshine Radio Voucher Shop.
How do I buy a voucher?
To buy a voucher, simply click on the voucher that you're interested in and click 'buy now'. You can select the quantity of vouchers that you would like to buy by clicking in the appropriate box. Payment can be made via credit / debit card using Paypal, or alternatively, if you already have a PayPal account, using that account directly.
How do I receive my voucher?
Once your order is received, you'll receive a link to your voucher via the email address you supply when ordering. This should arrive straight away.
My voucher hasn't arrived… help!
First thing to do is to check your junk or spam folder, as some email services will place the email in that folder automatically. If not, please contact us and we'll be able to help.
Can I use more than one voucher at a time?
Ordinarily, you're only able to use one voucher per transaction, but this will always be clearly stated in the terms and conditions, so check these carefully.
Can I order a voucher and give it to someone else to use?
Check the terms and conditions of the voucher; generally the voucher would be valid for you and those accompanying you, but check with the individual establishment.
How long is my voucher valid for?
Check the terms and conditions as this is clearly stated on the voucher.
How do I use my voucher?
You may redeem your voucher at the venue printed on it – please note, there may be more than one branch of the venue so make sure you are attempting to use it at the correct location! Please advise the establishment that you have a Sunshine Saver voucher before ordering. When you are paying your bill, present the voucher to have the value of the voucher deducted from the amount you owe.
My voucher is worth more than I owed, can I have a refund for the difference?
Unfortunately, we are unable to credit any remaining value back to the voucher and the establishment cannot refund you the difference.
What can I use my voucher for?
Your voucher is valid for the product or service stated on it. Vouchers cannot be redeemed for cash.
I have a restaurant voucher. Do I have to pick from a certain menu or is there another restriction on what I can order?
Please check the terms and conditions of the voucher carefully – some vouchers may require you to select from a certain selection of food and drink, whilst others will allow you to choose anything up to the value on your voucher.
What about if the restaurant is part of a chain? Can I use my voucher in any branch of the chain?
Vouchers are generally valid in the establishment shown on your voucher only, so please check this carefully.
I would like to see a voucher for an establishment not currently on your website. Can you make this happen?
We'd love to hear from you! Contact us here and tell us where you'd like to see a voucher for – we'll contact the retailer or restaurant and invite them to be part of our voucher shop!
I am a business and would like to feature a voucher on your shop, how can I do this?
We'd love to hear from you. Contact us here and speak to our friendly team. We could be featuring your voucher very soon!
View T & C's
Hereford

Medium-level cloud

High: 21°C | Low: 13°C

Ludlow

Medium-level cloud

High: 20°C | Low: 14°C

Abergavenny

Medium-level cloud

High: 20°C | Low: 16°C

Monmouth

Medium-level cloud

High: 21°C | Low: 14°C