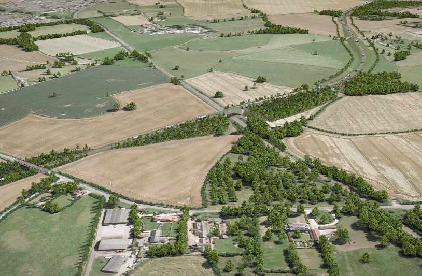 Southern Link Road Visual
Herefordshire Council chiefs have diverted more than £440,000 worth of funding, which could have been used to fix potholes or prevent flooding, on developing a business case for Hereford's proposed southern link road.
Herefordshire Council economy and place acting director Richard Ball decided on June 4 to continue development of a business case for the South Wye Transport Package and progress the scheme up to a cost of £283,370.
This work will include an appraisal of options for the SWTP and will be commissioned through the council's public realm contract during May and June 2019.
The SWTP includes the proposed link road between the A49 Ross road and A465 Abergavenny road.
The work will be paid for through a virement of funds from the Local Transport Plan which sets out the council's vision for investment in the local transport network.
Officers say the decision to move the funding will allow the council to take the SWTP project forward pending further decisions by cabinet.
Former infrastructure cabinet member Philip Price authorised paying to develop a business case with LTP funding on March 8 subject to Department for Transport approval.
Infrastructure cabinet member John Harrington said: "In March 2019, the Department of Transport announced additional Local Transport Plan funding for councils.
"The decision has been made to allocate part of this LTP grant to progress development of the South Wye Transport Package in accordance with previous cabinet decisions.
"The new cabinet has not yet made a decision on the status of the South Wye Transport Package but has asked for reports and updates as a matter of urgency and expects to make an announcement shortly.
"As this funding had not been committed for use on the programme of highways maintenance work for 2019/20, there will not be a reduction in highways maintenance work already planned for this financial year as a result of this decision."
The total funding diverted from the LTP this year is £443,370 so far.
Mr Ball also decided to fund the delivery of the SWTP during April through a virement of £160,000 of the LTP grant.
"If the delivery of the SWTP is to be progressed to programme and key milestones on which the full final business case and the associated DfT funding depends, then work will have to be undertaken by Balfour Beatty Living Places in advance of the final business case approval," the officer decision record states.
"As such, this work will need to be funded from the council's own budgets."
Officers say the £283,370 is needed for works to continue until the end of June.
They say the movement of funds should not affect their planned highways works because the council received an extra £603,370 of pothole and flood resilience funding from the Government.
This extra funding was announced after the council set its budget for 2019/20.