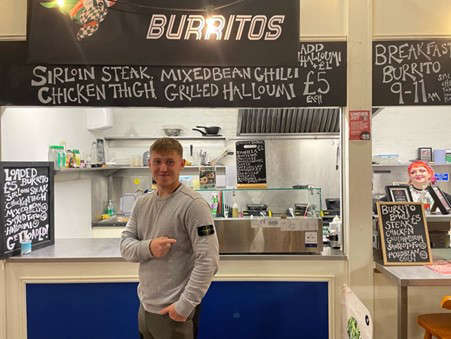 Stone Island wearer Jake Warren, Hereford.
In response to the Orange Tree (King Street) in Hereford, introducing a dress code, including the ban of Italian luxury men's apparel 'Stone Island', Loaded Burrito located in the Butter Market are supporting all those who represent the brand by selling discounted burritos until Saturday
Usually the stall charges £5, however, all those wearing Stone Island or tracksuits will get £1 off their Burrito.
Barnaby from Loaded Burritos says "I don't feel like the clothes people own and wear should impact what they are able to do and the places they go"
He very much encourages all those who wear tracksuits, bum-bags, and Stone Island to wear the garments with pride.

It follows a local pub landlord in Hereford recently banning anyone who wears Stone Island clothing and tracksuits from their establishment.