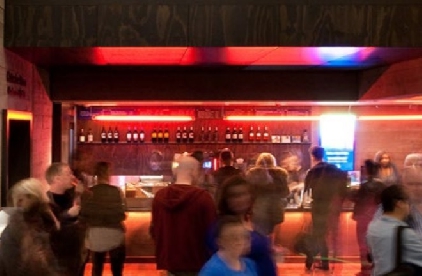 Senior councillors have given their support to finding a funding shortfall to complete a refurbishment of Abergavenny's Borough Theatre.
Monmouthshire council has been left with an outstanding bill of £1,042,624 to carry out the project, on top of an initial spend of £197,309.
The current budget stands at £309,624, but a range of potential grant funding has been identified to leave a potential shortfall of around £278,943.
A meeting is being held with Abergavenny Town Council about the remaining shortfall, and loan funding is also being considered.
At a Monmouthshire County Council cabinet meeting on Wednesday, councillors gave their support to the proposed investment.
Cllr Lisa Dymock, cabinet member for community wellbeing and social justice, said the refurbishment would improve the theatre which is in "a poor state".
"The refurbishment would see a beautiful theatre brought up to date, become more accessible for all and improve the customer experience," she said.
Cllr Bob Greenland, deputy leader and member for governance and strategic planning, said the theatre is "the jewel in the crown".
"But jewels have to sparkle, and the borough theatre is anything but sparking at the moment," he added.
"We must find this extra money."
Work on the refurbishment has already started, but costs increased after further surveys were carried out.
The increase in costs has also been blamed on the Covid pandemic, Suez Canal blockage and that the theatre is situated within the Grade-II-listed Abergavenny town hall.
Abergavenny councillor Maureen Powell said the theatre – which has been in use for more than 100 years and played host to The Beatles in 1963 – is an 'icon' in the town.
"I do hope we find the extra money one way or another, even if we have to borrow it," she said.
"It would be so sad for something so important as this to be left to wither away."
Council leader, Cllr Richard John, said: "We should do all we can to try to fund this, despite the very significant pressures we are facing as an authority."
Abergavenny town councillors will meet this evening to discuss the issue, before a full county council meeting next week.