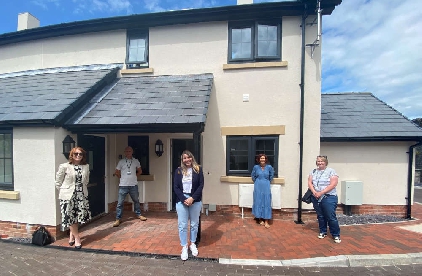 A cul de sac of modern and spacious self-contained apartments are helping to provide some of Monmouthshire's homeless residents with a new start.
It follows an ongoing collaboration between Melin Homes and Monmouthshire County Council which has seen two blocks of apartments built. The recently opened accommodation is made up of eight, one-bed homes and supports the need for additional one-bed single person accommodation – something which is greatly needed in Monmouthshire.
The accommodation has been sensitively designed to be in keeping with its location, with each apartment containing a spacious kitchen with white goods, a lounge area, a large bedroom and a modern bath/shower room. Each apartment has been built to a high standard with high quality fixtures and fittings. The surrounding areas have been tastefully landscaped, creating an inviting and homely location for those who have faced hardship or have been sleeping rough to be welcomed into.
The new accommodation is just one of many of Monmouthshire County Council's projects aimed at supporting the county's homeless and also reinforces the continued benefits of partnerships with the organisations like Melin Homes and Monmouthshire Housing Association. The work builds on other collaborative projects which has seen temporary accommodation established in Caldicot, Abergavenny and Monmouth.
The need to increase temporary accommodation provision in the county follows the rise in people presenting as homeless in recent years. The last 17 months has also seen an increase in the number of people falling on hard times due to the impact of the pandemic, and the surge in relationship breakdowns during lockdowns. The Welsh Government recently established a new vision for homelessness and put a requirement on all local authorities to make sure no one slept rough during the pandemic. The Phase 2 Guidance for Homeless & Housing Support sets out aims such as;
More temporary homes
Better quality temporary homes
Movement towards self-contained accommodation
A wider range of temporary homes
More housing support
Rapid rehousing
Speaking about the development, Chief Executive of Melin Homes Paula Kennedy said: "The pandemic pushed homelessness to the very top of Welsh Governments' agenda and they made £50 million available to support projects across Wales. Thanks to some impressive partnership working with our colleagues in Monmouthshire County Council, we are proud to have played our part investing £660,000 to build eight brand new flats providing temporary accommodation for homeless people. I'm very proud that our work will enable vulnerable people in our communities will be given a safe place from which they can get all the support they need."
Upon visiting the new apartments, Cabinet Member for Community Wellbeing and Social Justice, Councillor Lisa Dymock said: "I am completely blown away by these high quality and spacious homes. I am delighted we are able to provide some of our residents who have faced difficulties or fallen on hard times with this standard of accommodation. Nobody should have to be in a situation where sleeping rough or sofa surfing is the only option and Monmouthshire County Council is fully committed to ensuring we have the right provisions and mechanisms in place to enable us to support anyone experiencing this. The new accommodation will have an important role in supporting people to rebuild their lives.
"This also proves that there is power in partnerships and I would like to take this opportunity to thank Melin Homes for helping provide this accommodation, which can sometimes be a lifeline for people. Our work doesn't end here. Ensuring people have the resources, support and means to help them out of temporary accommodation and to finding their long term home is of utmost importance. That's why our continued gratitude goes to our partners at Pobl, Llamau and MHA and many other agencies for their support and expertise in ensuring no one gets left behind."