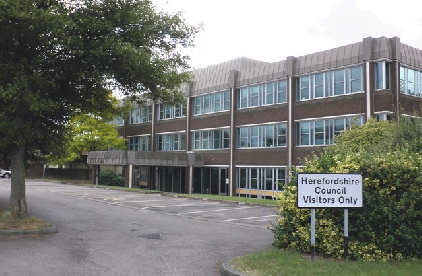 Senior councillors admit recommendations from a report into student sex abuse should have been shared three years ago to protect other children.
Herefordshire Council commissioned and funded an investigation, in April 2017, into the handling of of a case in which a local student was abused by another.
The report contained clear recommendations about how to shield a victim from their abuser and a proforma risk assessment to help schools keep victims safe.
These recommendations would have helped prevent other children being put back into school with their abusers.
However, the council did not share the report's findings with scrutiny committee councillors or schools at the time.
Last November, council leader David Hitchiner was informed of the issue and called for a review.
"The council was being asked to provide some assurances and I couldn't see how those assurances could possibly be given without an investigation going back into the historic cases," coun Hitchiner said.
"It was a no brainer as far as I was concerned. There needed to be a review and I don't know why, but other people's logic was perhaps different.
"I could see this review needed to take place and it needed to be decided on quickly."
Children and young people scrutiny committee chairman Carole Gandy told this week's meeting that she was angry that councillors were not provided with the report's findings.
"We cannot do our job properly if we are not provided with all the tools and information to do so," she said.
"You cannot do good scrutiny if you do not have access to the information available and you struggle to gain that information.
"I'm quite angry about this report. Not the content, but the fact it was so difficult to get hold of parts of this report."
Councillor Diana Toynbee said she did not understand why the learnings from the report were not shared.
"It's perfectly possible to contact and consult with families without compromising anonymity."
Ceri Morgan, assistant director education, development, and skills, said it would have been better to have shared the recommendations at the time.
"The decision was taken not to share it at the time, and I think now, in a way, the world has moved on in terms of national guidance and expertise in this area," he told the committee.
"It would have been helpful to share it and the report says it should have been shared at the time. But it wasn't."
Coun Gandy said they should have used the recommendations from the report as there was no national guidance at the time it was commissioned.
"We have a report that is commissioned in April 2017. At that time there was no national guidance and that was made clear to us when we had the spotlight review in December.
"We were made aware that at that time the only national guidance did not come out until December 2017.
"We had a good eight months where there was no guidance as such other than normal safeguarding guidance that goes to schools as normal.
"Now, somebody took a decision which I do not understand, that we shouldn't share the recommendations from the report which I felt were good recommendations at that time.
"I just cannot understand where this went wrong and why we felt these recommendations were not appropriate when we actually didn't have anything.
"The reasons being given later were that it wasn't our report. It was our report. We paid for it."