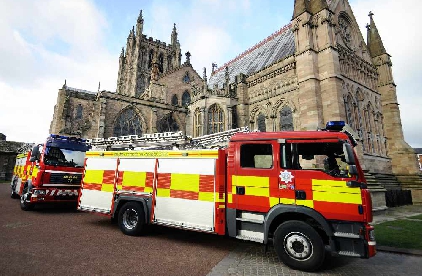 The search for a new boss of the region's fire service has started.
Nathan Travis, chief fire officer of Hereford and Worcester Fire and Rescue Service, recently announced he will be retiring next year and the search for his successor has already started.
Hereford and Worcester Fire Authority agreed to move ahead with finding a replacement chief fire officer at a meeting on Wednesday (September 16).
Mr Travis was appointed in April 2016.
Chairman of the fire authority Cllr Roger Phillips said he was saddened by the decision with members adding Mr Travis would be a great loss to the fire service.
Cllr Richard Udall had argued the fire authority could look outside of the fire service to find a new chief officer but most members disagreed.
He said it would not stop the authority from appointing an experienced person from within the fire service but would also help them "widen the net" to recruit the best person in the fairest way.
Cllr Kit Taylor said the appointment should go to a uniformed officer.
"If you're running into a burning building it must be quite comforting to know that whoever is telling them to do it has actually done it themselves," he said.
Cllr Fran Oborksi agreed and said with coronavirus and the ongoing row over the governance of the fire service, the authority needed to choose "the most secure, most stable" candidate.
West Mercia Police and Crime Commissioner (PCC) John Campion wants to take over governing the fire service which he claims will save around £4 million a year but a decision will not be made until after PCC elections in May next year.
Mr Campion paid tribute to the outgoing chief calling him "exceptionally professional" and the fire had service had been left in a better position than when he took over.
Despite a now two-year-long battle over whether the takeover will take place, a decision has been postponed until after the next police and crime commissioner elections in May next year.
The fire service said the case for the takeover may also be left without political support if Mr Campion was not re-elected.
West Mercia Police split from its alliance with Warwickshire Police earlier this year with £10.5 million to be paid as a settlement. Some services will continued to be shared for another 12 months.