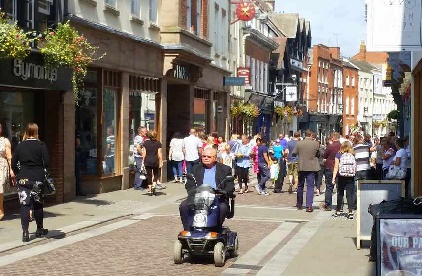 County council leaders say they are going to review an infamous trip hazard in Hereford.
Hundreds of residents have tripped on the low lying kerb along Widemarsh Street since it was placed in 2011.
And many of those have ended up in hospital with fractured bones.
However, Herefordshire Council has defended the design of Widemarsh Street saying it complied with national design standards and involved consultation with a large number of stakeholders.
But now the new cabinet member for infrastructure and transport says the kerb will be looked into as part of a city centre review.
Councillor John Harrington said: "I've asked for a review of our schemes in High Town including Widemarsh Street.
"As a new cabinet member, I've decided to come in and look at how things have been set up and see if there are things we can do to improve the area.
"So there may be some changes, we will see if we can improve the layout."
A response to a freedom of information request revealed last year that more than 100 people had reported tripping up on the kerb since it was placed.
The figures also revealed there had been 12 unsuccessful injury claims made by residents since the city centre street was refurbished.
In June this year, Jean Reynolds, 77, from Cusop near Hay-on-Wye, fell while crossing the street. The fall cut her forehead, grazed her knees and broke her glasses.
And Mandy Pridham, 46, from Leominster broke her leg after falling on the street several months ago.
She fell after tripping on the kerb and rolling her ankle and said at the time she was considering legal action.