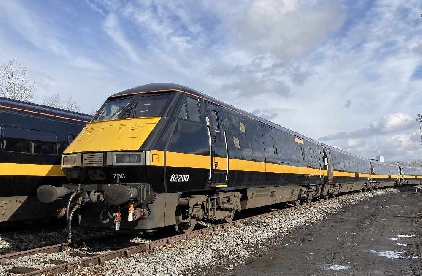 Rail passengers in Herefordshire and Monmouthshire will see an increase in seating from next year.
Transport for Wales has purchased 30 "Mark 4" coaches which were used until recently on the East Coast Main Line.
Since the 1980s, services along the Welsh Marches have been operated with short diesel units of two or three coaches each.
They will be formed into four sets of five coaches each, for use on services between Swansea and Manchester Piccadilly via Cardiff Central and Abergavenny.
The Mark 4 trains will include a buffet car and one car will be entirely first-class.
James Price, Transport for Wales CEO said: "We're continuing with our plans to transform transport across our network and improve the customer experience. Today, we've introduced additional Mark 4 carriages on our north-south Wales route that will improve the service.
"I'm also delighted to announce our plans to introduce premium intercity carriages to our network within the next two years. The Swansea-Manchester route is one of our most popular, providing key links between the cities of south Wales and north-west England. By introducing these high-quality trains, we're recognising its importance as an intercity route and providing a more attractive alternative to travelling by car.
"The investment in high-quality trains demonstrates we're going above and beyond our original commitment to transform the Wales and Borders rail service and deliver a world-class service for our customers throughout our network, including on the Heart of Wales and west Wales where we're upgrading our original plans."
Transport for Wales manage railways stations in Cwmbran, Abergavenny, Hereford, Leominster, Ludlow, Craven Arms and Shrewsbury.