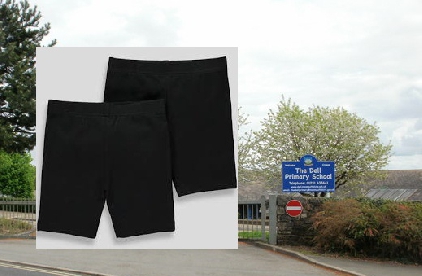 Parents of young girls have accused a Monmouthshire school of body-shaming after the introduction of 'modesty shorts' as part of its uniform policy
The cover-up precautions are intended to protect girls as young as four who may bare all mid-cartwheel.
The Dell Primary School in Chepstow, Monmouthshire suggested the shorts in a text to parents in May, The Sun reported.
Headteacher Steve King said in the message, which posted on Facebook: 'While we do not want to give children messages that they are responsible for the actions of others, we cannot stand by while children's actions may attract inappropriate attention from members of the public.'
Parents have lashed out at the school – suggesting they are 'body-shaming' the pupils.
One parent, who has not been named, said: 'It is shocking that girls as young as four are being asked to cover up.
'It suggests their pants and what they wear are a problem.'
Another parent said: 'Children should be free to do cartwheels, hang upside down and do whatever they want to before the inevitable hang-ups of puberty kick in.'
Conservative MP Maria Miller, former chairwoman of the women and equalities committee, which investigated sexual harassment in schools, told the Sunday Times: "It's our responsibility to keep children safe at school and not put that responsibility onto them and what they wear."