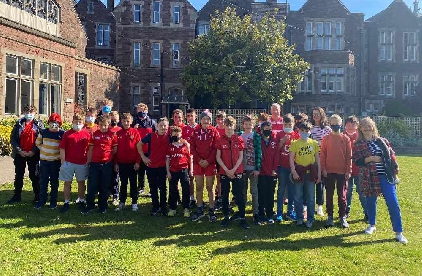 Hundreds of pupils and staff at Haberdashers' Monmouth Schools have turned red to raise £1,300 for the UK Sepsis Trust.
The red-themed day raised awareness of sepsis, a potentially fatal blood poisoning condition that can affect anyone at any age, resulting in 44,000 deaths in the UK every year.
Head of Religious Studies at Monmouth School for Boys, Mrs Rhiannon Wynne Lord knows all about the condition.
Her youngest son twice overcame the condition and is keen to raise awareness of sepsis and to warn of its symptoms.
Abergavenny's Joshua Sutton-Dodd, the current Head of School at Monmouth School for Boys, also had a very personal reason for supporting the event.
He suffered sepsis in January 2013 and realises how important it is to raise awareness of this potentially fatal infection.
"Joshua was taken seriously ill when a bout of chickenpox very quickly caused sepsis," explained his mum, Mrs Sarah Sutton-Dodd.
"However, after a tough few weeks, Joshua recovered and is so thankful to all those at the NHS who watched over him."
In 2019, Mrs Wynne Lord's boy, Albie, survived sepsis at six weeks old and then again three weeks later.
"The signs were difficult to spot in such a young baby but his high temperate, unwillingness to breastfeed and dry nappies raised the alarm," said Mrs Wynne Lord.
After an initial visit to the GP, Albie very quickly deteriorated and on returning to the surgery the doctor immediately called an ambulance.
"Albie was rapidly deteriorating and the Wales Air Ambulance Service arrived and the flying doctors acted quickly to save his life in the back of an ambulance," said Mrs Wynne Lord.
Albie fell ill again with sepsis a few weeks later but made a good recovery and he is now a very lively and happy two year old boy.
By sharing these stories, the schools are hoping to raise awareness of the symptoms of sepsis because acting quickly is vital to increasing a person's chances of survival.