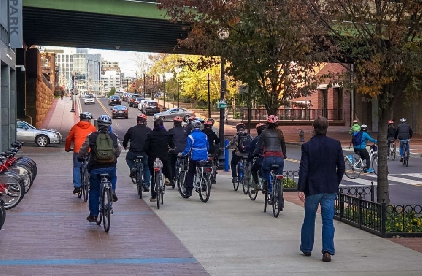 Herefordshire is to seek nearly £44 million in Government cash to bring forward several ambitious growth and sustainability projects across the county.
The council's cabinet is expected to approve the bid to the Levelling Up Fund on Wednesday, after which it must be with the Government by July 6.
The three main parts of the bid are measures to boost sustainable travel in Hereford; new employment land in Ross-on-Wye, and a package of built heritage improvements for Leominster and Ledbury.
The Hereford package, for which the council is seeking £20 million, consists of 20 schemes which the council says are deliverable by March 2025, and include the long-awaited transport hub at the railway station, integrating cycling, walking and buses with rail.
Funding is also sought for:
a cycle scheme from Aylestone Hill along the A465 and Commercial Road, linking the north and east of the county to the transport hub and the rest of the city;
bus priority measures along Blueschool Street and Newmarket Street;
improvements to the Great Western Way walking and cycling path, including access across the A49;
improvements to St Owen Street one-way cycle scheme;
the introduction of a 20mph speed limit in parts of the city;
introducing or improving "quiet routes" to the Hereford Enterprise Zone, to encourage walking and cycling to work;
measures to make Holme Lacy Road between the A49 and the Hereford Enterprise Zone more cycle-friendly.
In Ross-on-Wye, £19 million is sought to develop the seven-hectare council-owned Ross Enterprise Park and its transport links to the rest of the town, in order to address an identified shortage of employment land.
This "provides opportunities to build on the county's significant strengths in cyber-security, and to enable the county to benefit from increasing strengths in engineering and technology", a report to cabinet recommending the bid says.
The bid would pay for:
site clearance including of existing farm buildings;
groundworks to create platforms for development plots;
internal estate roads, cycleways and walkways;
utilities and communication networks, and drainage;
soft and hard landscaping and ecology enhancement including a buffer between the park and nearby houses.
This could ultimately create 1,250 new jobs for the area, and bring output worth £195 million over ten years, the report says.
Lastly, £4.6 million is being asked to revamp Leominster's Corn Square, turn part of the Old Priory into office and accommodation space; bring forward other public realm improvements in the town centre; and pay for landscaping at Ledbury's Masters House and St Katharine's car park.