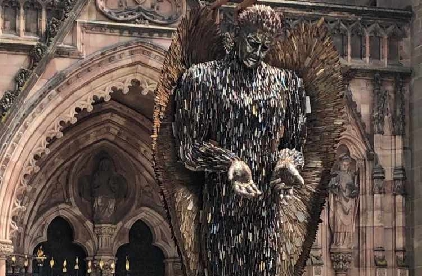 A 27-foot-high sculpture, made of more than 100,000 knives, has been unveiled outside Hereford Cathedral.
The Knife Angel was at the The British Ironwork Centre and is a memorial to those whose lives have been affected by knife crime.
The team responsible for bringing the Knife Angel to Hereford is headed by Alison Davies, who lost her son, Mark, to knife crime in 2018, and Meryl Cain.
Alison Davies said: "The statue is incredibly moving to see and we are hoping that it will stimulate debate and discussion around the subject of violent crime and how to prevent it. Even after the Angel has left us, we are hoping to continue with a programme of legacy events, so that important messages regarding the futility of violent crime are continued into the future.
"We are truly grateful for all the support that we have received from our partners, sponsors and volunteers."
The Knife Angel will be located outside the cathedral and will be free to visit with no need for visitors to book in advance.