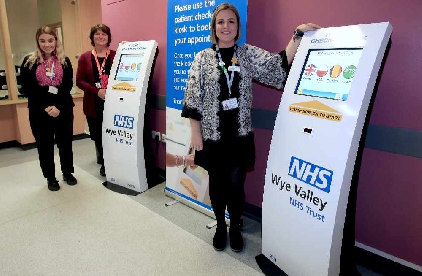 Outpatients at Hereford County Hospital will now find it easier when they arrive for appointments after new patient self check-in kiosks were switched on for the first time.
The two hi-tech kiosks, located in Oxford suite near the Hospital's main entrance, will mean shorter queues and a quicker check-in process for patients.
The kiosks can provide information in a choice of languages, have large print and can be used in high-contrast mode to help visually impaired patients.
"Each day we can have upwards of 350 patients check in for appointments at Oxford suite and the self-check in kiosks aim to improve the patient journey and reduce queues. Similar kiosks are used at a number of Hospitals and local GP surgeries and are well used and liked by patients" said Shirley Michael, Project Lead.
The two kiosks are being trialled and monitored for three months before rolling out to other outpatient areas in the Trust.
"If patients have concerns the kiosks are supported by Reception staff who continue to deal with other queries and follow-up appointments. The first week has gone very well and we have had lots of positive feedback from patients using them" added Shirley.