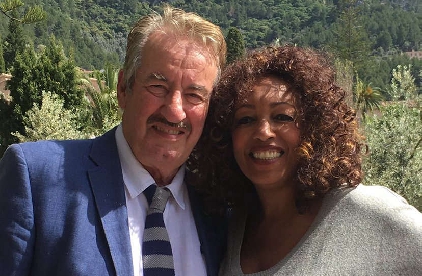 Three Degrees singer Sheila Ferguson with John Challis.
Tributes are continuing to pour in following the death of Herefordshire actor John Challis who has died from cancer aged 79.
The actor, who lived at Wigmore Abbey, had an extensive television career but was best known for playing Terrance Aubrey "Boycie" Boyce in the long-running BBC sitcom.
He also starred in its spin-off The Green Green Grass from 2005 to 2009 and the ITV sitcom Benidorm from the seventh series onwards.
Tributes have been pouring in since the news of his death emerged, with Sue Holderness, who played Boycie's wife, describing him as a "beloved friend".
She said in a statement: "Marlene without Boycie - it's unthinkable. John Challis was my partner on screen and stage for 36 years and my beloved friend. R.I.P. darling John. I will miss you every day."
The Three Degrees singer Sheila Ferguson tweeted: "I've been waiting for this for a few days now.
"It is with great sadness that I tell you that my dear friend, John Challis (Boycie from OFAH) has just passed.
"I've been in touch with his wife, Carol, who is obviously heartbroken, as am I. Much love, S."
One Only Fools fan tweeted: "Absolutely gutted to hear of the passing of John Challis (Boycie from OFAH) Massive part of so many people's childhoods".
The Jolly Boys Podcast said: "We are absolutely devastated by the passing of our lovely friend, John Challis. Our hearts go out to his family & friends at this difficult time We love you, John. Sleep well".
Allo Allo star Vicki Michelle said: "Shocked and saddened to hear of the passing of Wonderful John Challis such a fabulous man. Loved by the Nation. Condolences to his family and loved ones."
His family said donations in his memory can be made to his chosen animal charities Cuan Wildlife Rescue, Tusk or the British Hedgehog Preservation Society which is based in Ludlow.