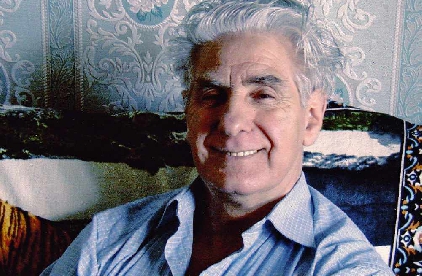 A Hereford film enthusiast who battled cancer and heart problems has left over £130,000 to charities in his Will.
Geoffrey Newman, who lived in Hereford all his life, left a legacy of over £65,000 each to Cancer Research UK and Acorns Children's Hospice.

A well-known figure in Hereford through his membership of numerous art, dance and writing clubs, Geoff died at the age of 79 last April after losing his fight with prostate cancer.

Despite his ill health, Geoff was famous for his sense of humour and love of all things quirky and theatrical. He transformed his garden into a paradise of 'little people' for visiting nephews and nieces, carving cartoon and fairytale characters out of wood. He also created his own version of Hereford Castle out of wood.

Geoff was a passionate collector of comic books, hoarding years' worth of copies of the Beano and Dandy, and even naming his two dogs Beano and Dandy.

A former porter at Burghill Mental Health Hospital, Geoff married a former nun, Marie, who also worked at the hospital. When Marie died at a young age, Geoff found love again with his second partner Marion.

Members of Geoff's family presented a cheque for over £65,000 to Cancer Research UK at a special event at The Forge, Hereford.

His sister, Sylvia Corrick, aged 76, also from Hereford, said: "Geoff was passionate about so many things in life. He loved opera and films, and knew everything there was to know about actors, directors and producers.

"He thought charity was incredibly important. Every week he bought a lottery ticket, and if he won anything it went straight to charity. He never bought new clothes, preferring instead to buy them from charity shops. He said the charities needed the money most.

"Geoff always said he was going to leave everything he had to charity. He knew his family didn't need it, but the charities did. And he was particularly keen to benefit cancer charities. He never complained about his illness, but he did say to me once: 'This dying takes a bloody long time.'

"We were a family of eight children, and two of our brothers also died after having stomach cancer and lung cancer. It was a cause close to Geoff's heart. We shall all miss him very much."

Gifts left to Cancer Research UK in Wills fund over a third of its pioneering work, helping to turn discoveries made in the lab into better treatments for patients.

Julie George, Cancer Research UK's Community Legacy Manager for Herefordshire, said: "We are so grateful to Geoff for his wonderful gift to research, and to his family for supporting him in his decision. If it wasn't for kind, generous people like Geoff, we wouldn't be able to fund our ground-breaking cancer science.

By leaving a gift in their Will – no matter how big or small the donation – people in Herefordshire can give families affected by cancer the incredible gift of hope."

Legacy gifts can come in all shapes and sizes. As well as traditional sums of money, a range of diverse and unique things have been left to Cancer Research UK in Wills from book royalties to a stuffed parrot, a surfboard and a collection of 2,500 model buses and lorries.
Last year, the charity spent over £9 million in the West Midlands on some of the UK's leading scientific and clinical research.

Julie George added: "We hope the story of Geoff's generosity inspires as many people as possible to consider leaving a legacy gift to Cancer Research UK and helping us to beat cancer sooner.