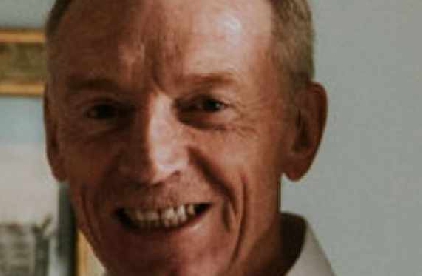 A Welsh Government adviser, who helped plan the coronavirus response, has been awarded an MBE.
David Goulding of Newport said he was "delighted" to be named on the Queen's Birthday Honours list and to be recognised for his work as a health emergency planning adviser
Mr Goulding said: "This honour, coming at a time of the COVID pandemic, when so many people have contributed so much, gives me a real sense of personal achievement at the contribution that I have made to help during the crisis."
During Covid his role has been to support Wales' national planning and response structures, to co-ordinate national countermeasures such as personal protective equipment and oversee the logistics supporting the COVID vaccination program.
He has also maintained support for the Wales health emergency planning network, working with health boards and trusts.
Mr Goulding said: "From a professional perspective, it is great that the importance of the emergency planning function is being recognised in this way.
"In each health board and NHS Trust, as well as in local authorities and the emergency services, there are dedicated emergency planning professionals whose job is to risk assess, develop emergency plans and validate those plans.
"Those same staff also have key response roles in times of emergency and, I know, they have been very busy during COVID.
"From a family perspective, receiving this award now, is very timely because there have been times, particularly during COVID, when my wife has said I deserve a medal and now I will be able to say I have one."
Mr Goulding has been in the role since 2000 and has worked at UK Government level, Welsh Government level and with regional health boards.
Before joining the Welsh Government, Mr Goulding worked as head of emergency planning for Gwent local authorities and was also a professional advisor to the UK Local Government Association and Welsh Local Government Association.
CHIEF SUPERINDENDENT PAUL GRIFFITHS
A Gwent police chief has been awarded an OBE for services to policiing.
Chief Superindendent Paul Griffiths of Caldicot, who is president of the Police Superintendents' Association for England and Wales, has been awarded an OBE as part of the Queen's Birthday Honours 2021.
His biography on the PSA's website says has "served in both uniform and detective ranks throughout his careers" and has "led one of the largest modern slavery investigations in the United Kingdom".
Mr Griffiths led Operational Imperial, which started in early 2013, which investigated modern day slavery and trafficking style offences in Gwent. The success of the operation has led to at least two convictions.
Aside from leading operational work, Mr Griffiths has held district executive roles since 2010 and was elected vice president of the PSA in 2016 and president in 2019.
Throughout the years, Mr Griffiths has raised money for police charities by walking 870 miles around the Welsh coastal paths, completing the UK 24 hour Three Peaks Challenge, cycling more than 2,100 miles around every Police Headquarters and walking 86 iles of the Hadrian's Wall Path in 36 hours.
PETER GOUGH
An Usk advisor at Natural Resources Wales has been awarded an OBE in the Queen's Birthday Honours 2021 for services to sustainable fisheries management.
Peter Gough is a principal advisor for fisheries at NRW and has worked for the company or other similar bodies across England and Wales for 40 years.
Speaking about his OBE, Mr Gough said: "I wasn't expecting it at all, it was a wonderful surprised.
"I am really pleased but it was one of those I can't believe it moments."
Mr Gough works for NRW looking at fresh water and migratory fish work management.
This is focused around safeguarding fish populations for the futre.
Mr Gough said: "We are doing everything we can to protect the fish."
Salmon is the most familiar fish that Mr Gough focuses on, but says it's sea trout – sewin – that Wales is renowned for.