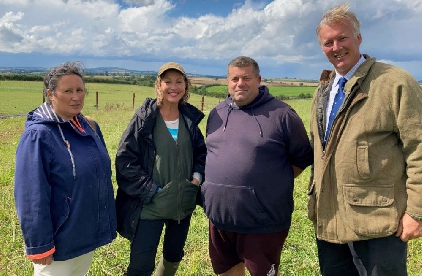 The Flooding Minister visited Herefordshire to discuss the ongoing Phosphate situation in the River Wye and Lugg.
Rebecca Pow visited a farm in Brampton Abbott to discuss how to resolve diffuse pollutions in local rivers.
North Herefordshire MP Bill Wiggins said: "It is important that farmers who are paying for expensive fertilizer, keep it on their land as it is not in their interest to lose it or indeed any of their soil, into the rivers."
"Farmers clearly do not wish for this to happen either although there are some who could do more, most are already working to prevent erosion and soil loss."
"What is not helping is the inherent blame culture surrounding this contentious issue, this should stop and be replaced with a joined-up approach to create solutions that will benefit all."
"It will require the work of not just the Government but the Environment Agency, Welsh Water, Local government and of course their Welsh equivalents, as this is a cross-border issue."
"I will be meeting again with the Environment Agency in the coming weeks to look at a few North Herefordshire flood spots and discuss potential improvements."