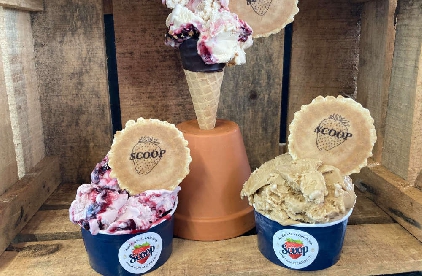 A local farm shop has won three awards for its homemade ice cream.
Great Taste, the world's most trusted food and drink awards, has announced its stars of 2021. Out of thousands of products sent in from countries all over the world, family owned and run Oakchurch Farm Shop in rural Herefordshire achieved not just one but three top 3-star awards to add to their existing twenty.
The awards were for Oakchurch's homemade gelato ice cream - Cherry Amaretto
Very Cherry and Cafe au Lait, made using fresh local ingredients, including handpicked fruit grown on the Oakchurch farm.
3-star Great Taste awards are the highest possible level achievable, which means that the judges found the products to be extraordinarily tasty.
One of the judges commented about the Cherry Amaretto ice cream: "A truly thoughtful and deeply successful combination of textures and flavours perfectly balanced. A triumph!"
Additional awards for Oakchurch Farm Shop included their own T-bone and rib-eye steaks, beef & mushroom pie, steak & kidney pie and several other ice creams.
Judged by over 100 of the most discerning palates, belonging to food critics, chefs, cooks, restaurateurs, buyers, retailers and producers, as well as food writers and journalists, Great Taste is the most coveted of all food and drink awards. As well as a badge of honour, the unmistakeable black and gold Great Taste label is a signpost to an outstanding product, which has been discovered through hours and hours of blind tasting.
"Absolutely delighted with the news." Said Nick Price, Oakchurch owner.
"We count ourselves to be so lucky to be located in rural Herefordshire where amazing food is always available in great abundance, right here on our doorstep. It really makes a difference to the quality and the flavour.
We're proud to be able to display the Great Taste Awards logo as a distinct indication of our high quality and great tasting food."
Oakchurch Farm Shop is at Staunton-on-Wye, 10 minutes from Hereford on the A438 Brecon Road.