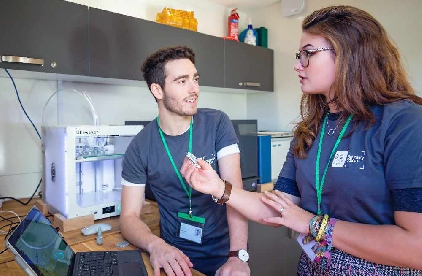 The official unveiling of a repurposed shipping container outside Hereford's Shirehall attracted representatives from schools, colleges and the local community, intrigued to find out more about its role in engaging people with Hereford's pioneering future engineering university.
Launching Ingenuity Studio, Professor Elena Rodriguez-Falcon, Provost and Acting Chief Executive for New Model in Technology and Engineering (NMiTE), said: "Our converted shipping container is a place where people can think outside the box, inside the box!"

Cllr Jonathan Lester, Leader of Herefordshire Council also attended and addressed the launch and then was shown around Studio 1 by some of NMiTE's young co-creators, members of its Design Cohort.

The repurposed container, Studio 1, is the first manifestation of NMiTE's exciting new engagement programme, Ingenuity Studio and will be outside Shirehall until November 15, with special events planned during Tomorrow's Engineers Week (http://www.tomorrowsengineers.org.uk) from November 5-9. It will then start touring the region, within a 40-mile radius of Hereford, visiting schools, colleges, sports centres and arts centres as well as key events like Hay Festival and the Three Counties Show.

The Ingenuity Studio initiative is wholly supported by the Garfield Weston Foundation and its purpose is to engage people with NMiTE and with engineering. "It's a space which reflects our mission, our learning spaces and our new approach to learning. Most of all it's a space where we want young people to understand what being an engineer can be," said Professor Rodriguez-Falcon. "We all experience something in our daily life that could do with modifying, improving, redesigning, reengineering. We want young people to feel engaged with the world around them, to be able to identify how improvements can be made, to harness technology to make things better. And we want them to brainstorm, to collaborate in teams, to design together."

Guests at the launch were invited to explore Studio 1, which is equipped with all sorts of kit to support idea generation, including high-tech 3D scanners, 3D printers, laser cutters and digital routers. They were shown around by the 25 members of NMiTE's Design Cohort, a group of student-age co-creators who are helping to develop the future university.

On Tuesday November 6, from 4pm – 7pm, during Tomorrow's Engineers Week, two of the Design Cohort, Megan de Bell and Megan Thomas, are organising 'Introducing NMiTE', a special open evening for 16-18 year olds studying in Herefordshire. Members of the Design Cohort will be running participative activities and answering questions and there will be free snacks and music. Young people will even have the chance to contribute their own ideas to the university project by designing a micro-Studio; a small, mobile device to engage young people, creatively, in engineering concepts. The best idea will win a smartphone camera rig. For more information, please follow the Facebook link. https://www.facebook.com/events/482250162281404/ 

On November 7, Studio 1 is hosting home-schoolers to participate in Tomorrow's Engineers Week's The Big Assembly, an interactive video stream featuring inspiring engineers. It will be hosting Sprints with young people, including home schoolers (on November 7 and 14) and a group from Barnhill Community High School from London (November 13). The Design Cohort will be leading Sprints on November 5 and 6 during Tomorrow's Engineers Week. Sprints, modelled on the NMiTE teaching approach, will engage young people in addressing a real-world challenge.

Members of the public are welcome to come and look at the outside of Studio 1 during Sprints but access to the unit will be closed for these sessions. Studio 1 will, however, be open to the public on Friday November 2 from 3 to 4pm and on Saturdays November 3 and 10, from 10am to 4pm.

NMiTE has been working closely with its neighbouring Sixth Form, Further and Higher Educational Institutions and is delighted that the next host venues for Studio 1 are Hereford Sixth Form College, Hereford College of Arts, Hereford and Ludlow College and The Royal National College for the Blind.