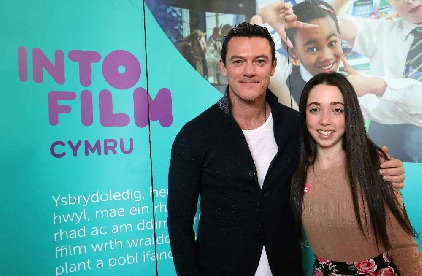 15-year-old Eden Quine-Taylor from Crickhowell High School has been nominated for the Best Film (12-15 years) award, at this year's "Oscars" for young British filmmakers.
Her short film, 'I'm the One', is also up for the Audience Choice Award, which will be decided by a vote on Twitter (the highest number of retweets).
'I'm the One', which can be viewed on the Into Film website, is a poetic and impressively staged one-shot film offering a glimpse into the lives of residents in Crickhowell, and demonstrating that each one of us has our own story and issues to deal with.
Speaking ahead of the awards, Eden said: "I am honoured to be nominated for such a prestigious award. Being able to have my work seen by industry professionals is so very exciting! Making films has always been my passion. I can't see myself doing anything else!"
Eden has already met Hollywood actor Luke Evans in a preliminary event in Cardiff on 3 March, but will now travel to the Into Film Awards ceremony on 18 March, which will be hosted by top comic actor and author David Walliams at the Odeon Luxe, Leicester Square, in London.
The Into Film Awards seek to honour the most talented and innovative young filmmakers, reviewers and Into Film Clubs in the UK. It also gives recognition to educators who use film as an education tool. Welsh actors Rhys Ifans and Luke Evans presented awards at last year's ceremony.
Born in Wales, Eden is very proud of her mixed heritage: having Chinese, Manx, Irish and English grandparents. She comes from a talented family, with sister, 17-year-old Breeanna, playing waterpolo for Wales and a singer songwriter under her artist name, Bree Quine.
Eden began acting aged seven, but soon realised that her real passion was in filmmaking. Eden wrote the script to her first short film (Happy Ever After) aged 11 and completed the short film aged 13. She has made six short films and her most recent is TOFFEE, starring a rescue dog. She has also co-written and co-directed three other short films as part of PQATVs Script to Screen residential courses.
Eden is a young spokesperson for the Global CMTC-OVM Organisation (supporting people with rare skin disorders through diagnosis/advice/research) of which she is also a member. She travelled to Amsterdam last year to film the annual global family event on their behalf and has created three short promo films.
Commenting on the filmmaking process, Eden said: "We can all be judgemental at times and I wanted to create a film that would encourage the audience to think about their actions and their thoughts behind them. I wanted to capture this film on one-take with a steadicam, and that took a lot of practice, choreography and a team of patient actors! The choreography was difficult to get my head around at first, there was only one day and one time slot to shoot so I spent months up at the location just practising and practising until I found the correct route. This was also the very first time I had used a steadicam and it took a huge amount of practice!"
Eden is one of five nominees at this year's UK-wide star-studded Into Film Awards – a record number of nominations for Wales. Other nominees are:
o Ones to Watch: Hedydd Ioan, Pen-y-groes, Gwynedd
o Reviewer of the Year: Cai Dadds, Swansea
o Teacher of the Year: Ms Yasmin John, The Hollies School, Cardiff
o Teacher of the Year: Mr Timm Dadds, Cwmrhydyceirw Primary School, Swansea
Britain's Got Talent host and children's author David Walliams said: "I love the Into Film Awards because it gives the opportunity to young people, from all kinds of backgrounds, to be a part of the film industry. As an actor, these young people are the future, and you want them to give you a job one day!
"Anything that encourages creativity is important, we have an amazing film industry in this country which is often ignored by politicians and we need to support it. Into Film is an amazing charity."
The Into Film Awards, now in its seventh year, celebrates young people's creativity in film, showcasing and highlighting the wealth of tomorrow's creative talent. Young people from across the UK whose short films and reviews have been nominated will be recognised at the star-studded ceremony.
Non Stevens, head of Into Film Cymru, said: "The aim of the UK-wide Awards is to promote the power of film and highlight how the scope of Into Film work can contribute to the educational, cultural and personal development of children and young people. We are delighted that, this year, we have a record number of nominations from Wales, demonstrating that we are punching above our weight as a small nation."
Some of the biggest stars in the industry attend the ceremony, with previous attendees including Daniel Craig, Eddie Redmayne, Lily James, Simon Pegg, Martin Freeman and Naomie Harris.
For full details about the awards, visit: www.intofilm.org/awards