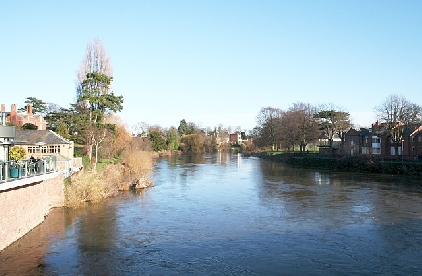 © Copyright Bob Embleton and licensed for reuse under this Creative Commons Licence.
County planners will next week consider a scheme to install permanent glass panel walls to prevent flooding along the southern bank of the River Wye near the Old Bridge in Hereford.
The Environment Agency wants to replace the demountable flood defences currently in place along the footpath in front of the homes next to the Saracens Head and also on a section next to Greyfriars Bridge.
The proposals, which include floodgates, aim to reduce the whole life cost of the defences and reduce the risk of failure to deploy during flooding.
The new passive defences will be located entirely within the footprint of the existing wall and will be designed to fit into the existing supports.
When open, the floodgates will maintain current access for pedestrians and maintenance.
Architects working on the scheme say a self-cleaning glass is being proposed to reduce maintenance costs and because graffiti on glass panels has not been a problem at other similar projects.
"The flood defence height will be no higher than column supports and adjacent flood walls," a consultant said in the design and access report submitted to the council.
"The glass panels along river side walk and flood gates at Bishops Meadow will be 600mm high, and the panels 3m long.
"The pedestrian gate along river side walk will tie into the top of the glass panels.
"At Greyfriars bridge the defence will be an 8m infill panel, with brick clad lower wall 350mm high and 700mm high glass panels above."
However, Hereford city council along with ten residents have objected to the proposals.
They say the new flood defences would not be in keeping with the area's aesthetics and could be painted with graffiti.
"The area already suffers from high levels of graffiti due to the low amount of lighting and pedestrian traffic at night, and glass surfaces such as this would only serve as ideal space for more graffiti," Connor Powell, a city council spokesperson said.
"The glass nature of the new defences is also out of touch with the local atmosphere; while the Left Bank is a modern structure, the riverside itself is of a quaint and rustic aesthetic, and is a quintessential 'Hereford' location, which would not be well served by clashing modern glass decoration."
Herefordshire Council's planning committee will consider the scheme at Shirehall at 10am on February 11.