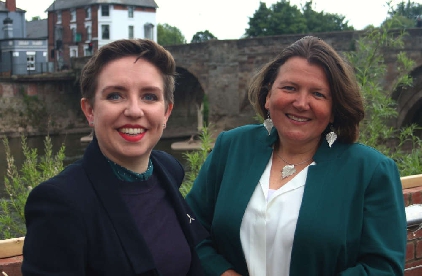 Herefordshire councillor Ellie Chowns has been named the Green Party of England and Wales' housing and communities spokesperson.
"Everyone deserves a warm and secure home, and Greens have the policies and the passion to make this happen," she said.
"I want to amplify these Green solutions for better homes and stronger communities."
Coun Chowns is the Herefordshire Council cabinet member for environment and economy, and a former Green MEP for the West Midlands. She is also a part-time university lecturer in international development.
She is one of five new spokespeople appointed by the party, the other new figures covering transport and healthy streets; peace and global justice; equalities and diversity; and health, social care and public health.
Green Party co-leader Carla Denyer, who visited Hereford last month, said: "The Green Party is delighted to unveil this list of knowledgeable and passionate spokespeople who will play a pivotal role in reaching new voters in every corner of England and Wales.
"They will put forward fresh thinking and bold solutions for the problems facing society and help consolidate the party's growing reputation as the party of social, economic and environmental justice."
Coun Chowns has spearheaded plans to build 1,500 new homes for social housing in the county. But she warned last month that this "could be reversed" if elections in a year's time go against the current Green/Independents for Herefordshire administration.