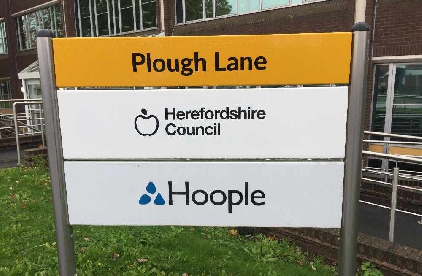 Herefordshire Council says its making sure progress is being made to address the issues in Children's Social Care Services and that sufficient funding and resources are made available.
It follows the Extraordinary meeting of Full Council last month called to address the serious failings identified in the recent court judgement.
Members of the Cabinet heard that the Improvement Plan is in development to deliver appropriate and sustainable changes. Cabinet also received an update on the progress of the Children's Improvement Board, which is chaired by the Department for Education appointed Improvement Advisor, Gladys Rhodes White OBE. The Children's Improvement Board will be jointly accountable to the government's Secretary of State for Children and Families and Herefordshire Council's Cabinet, and will provide progress reports on the implementation of the Improvement Plan. The Chair is the ultimate decision maker on the Board. Progress will be reviewed by Children and Young Person's Scrutiny committee and the Herefordshire Children's Safeguarding Partnership, while update reports will be provided to full Council.
The development of the Improvement Plan is being led by the Chief Executive, Paul Walker, supported by the Interim Director of Children's Services, Cath Knowles.
Herefordshire Council Chief Executive, Paul Walker, said: "We take full accountability for the failings of our Children's Social Care Services and we will make much-needed changes to our culture and practices. We welcome Gladys Rhodes White OBE to support us on our improvement journey and to provide accountability and reassurance to Government that we are making the necessary changes. Our Interim Director of Children's Services continues to lead the improvements to our Children's Social Care Services. Our social workers continue to do their best, often in very difficult circumstances, to support families and protect vulnerable children in our community. Under the new leadership, we will strive to ensure we offer Herefordshire children, and their families, the highest level of care and support possible.
Cabinet Member for Children's Services, Safeguarding and Corporate Parenting, Councillor Diana Toynbee, said: "I'm reassured by the determination and commitment of the team leading the development of the Improvement Plan with experience, commitment and determination and I am looking forward to meeting Mrs Rhodes White as soon as possible. Change of leadership was long overdue and I believe we now have the right balance of renewal and continuity. I'm particularly pleased that all concerns raised by local families are being addressed promptly, efficiently and compassionately. We are listening. We will use this turning point to create children's services that are deeply compassionate and effective, where families are our partners, staff are listened to, and all public concerns are acted upon."
A review of Children's Social Care Services is underway to understand and address any failings, while immediate actions are being taken to deal with any serious concerns.