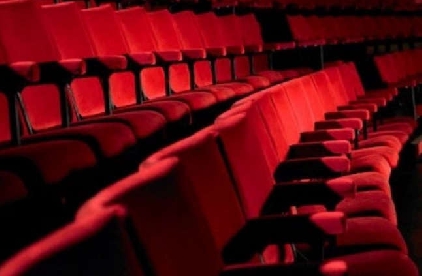 A funding shortfall needed to complete a refurbishment of Abergavenny's Borough Theatre could be underwritten by Monmouthshire County Council.
The refurbishment includes replacing old seating, updating the heating and cooling system, improving the foyer, increasing the number of toilets, moving the box office and refreshing the backstage area and dressing rooms.
But costs have increased to more than £1 million, from an initial estimate of £400,000, leaving the county council facing a shortfall of £278,943 to carry out the refurbishment.
A request for a contribution of £20,000 per year for an initial period of five years is being considered by Abergavenny Town Council.
But any remaining funding shortfall will be underwritten by Monmouthshire County Council if approved by councillors at a full council meeting on Thursday.
A report recommending that the shortfall is underwritten says the council will "explore all further funding opportunities", including concluding discussions with Abergavenny Town Council.
"However in the event that this funding gap cannot be managed in full, recourse would be to the council's capital funding in the form of capital receipts or borrowing," it says.
"It is recommended that the decision as to the most appropriate of these funding streams is made by the council's section 151 officer once the full funding picture is clear, and in the event that borrowing is undertaken, whether the service revenue budget or corporate financing budget will bear the financing costs."
Last week, Abergavenny town councillors agreed to consider the 'implications' of contributing £20,000 per year, amid concerns it would have "a big impact" on its budget.
Cllr Tudor Thomas, mayor of the town council, said there was "a big desire" to help, but that councillors have to be "clear that we are in a position to afford" the contribution.
Monmouthshire council's cabinet has supported the proposed investment to secure the future of the venue.
Cllr Lisa Dymock, cabinet member for community wellbeing and social justice, said: "Our aim is to ensure the refurbishment of the theatre so that it remains at the forefront of arts provision for many years to come, serving as a cultural hub for the whole of the county."
Cllr Dimitri Batrouni, Monmouthshire council's Labour group leader, said: "I welcome the investment in Abergavenny's Borough Theatre.
"They should haver made the decision a long time ago and have dithered and delayed, but we eventually got there."
Meanwhile, Monmouthshire council is calling on residents, businesses and theatre-goers to support the Borough Theatre by adopting a seat or making a donation.
Cllr Dymock added: "Adopting a seat is a personal way of displaying support for the theatre's exciting future with options available for six or 10 years.
"It can be a wonderful way to commemorate a friend or loved one. The Borough also welcomes donations to help bring this iconic listed building up to modern theatre standards."