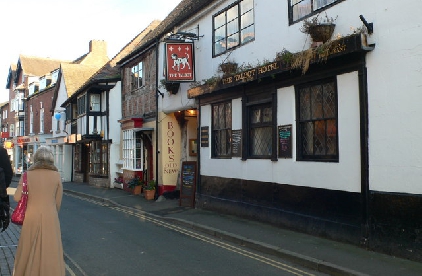 A community group which formed in response to concerns over development proposals for Much Wenlock has succeeded in winning eight out of the 11 seats on the town council.
In one of the biggest shake-ups across the county, just three previous councillors were re-elected to serve another term and will be joined by eight new members.
Seven former councillors stood down and another lost her seat in the poll.
Returning councillor Marcus Themans and seven of the eight newcomers are members of the Much Wenlock Neighbourhood Plan Refresh Group.
The group was established to give residents a voice in shaping the future growth of the town, and has been a vocal opponent of Shropshire Council's new draft Local Plan – in particular the allocation of a site at Hunters Gate for 120 homes.
The group says the proposal is in conflict with the town's Neighbourhood Plan, which was adopted in 2014. The town is one of only three communities in the county to have a Neighbourhood Plan, which forms part of the statutory development plan for the area.
Among those to be elected from the group was Chris Tyler. He said: "Because Much Wenlock is the jewel in the crown of Shropshire it's being threatened by all sorts of problems, not just in development but in transport and infrastructure.
"There were a number of us who got together to put ourselves forward to refresh the Neighbourhood Plan. It is a very important document for the town.
"We considered that we needed a council that was like-minded, because of the issues we have been beset with at the moment.
"The skillset we bring is very wide-ranging, it isn't just related to development, it covers all areas including planning, environmental and transport."
Among the seven councillors to step down were deputy mayor Mary Hill and former mayors Bert Harper, Yvonne Holyoak and Milner Whiteman.
Mayor Dan Thomas was re-elected as was Duncan White, with new Green Party councillor Mike Atherton completing the line-up.
Mr Atherton is the first person ever to be elected to the town council on a political ticket.
Councillor Thomas, who also won the Much Wenlock seat on Shropshire Council for the Conservatives, sits on the town council as an independent.
The two unsuccessful candidates were Paul Hanafin and former councillor Natalie Park. Ms Park's departure means the town council will have an all-male line-up.
Councillor Thomas said: "It's great to see so many candidates coming forward and wanting a say in how their town is represented.
"We have a real mix of people with different experiences and ages."
Councillor Thomas also paid tribute to the retiring councillors. He said: "Councillor Whiteman served on the town council or various forms of it for 52 years, and Yvonne Holyoak served about 40 years across different councils but ended up in Much Wenlock. Councillor Hill was on the council for about 10 years.
"We have lost some good experience but we have gained some new councillors with other experiences and skills."