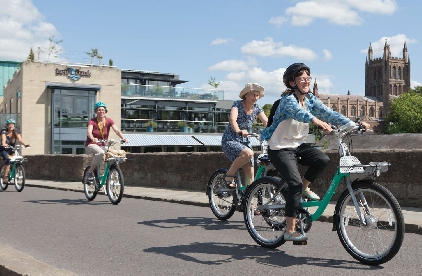 Beryl Bikes will be free to use in Hereford today as part of Car Free Day.
Users will be able to enjoy free journeys up to 60 minutes for bikes and 30 minutes for e-bikes, as well as free unlock for e-bikes.
Across the Hereford area, the scheme has seen a total of 357,000 kilometres travelled in 142,000 journeys via its vehicles since launching in 2019. The result is a modal shift from cars of over 15%, clearly demonstrating the positive impact the scheme is having in reducing the number of cars on the road within the area.
Car Free Day is a global initiative introduced to reduce the reliance on motorised vehicles. By offering free access and use of its micro-mobility vehicles, Beryl hopes more people will be able to fully experience the benefits of using safe, trusted and environmentally friendly alternative modes of transport.
Beryl CEO, Phil Ellis, said: "Car Free Day is an important moment in the year to continue building awareness around the need for greater sustainable, affordable and convenient travel solutions, putting people, the needs of local communities and the environment first.
"In support of this year's Car Free Day, we're offering more people the opportunity to enjoy the benefits of our bikes and e-bikes.
"Whether travelling using one of Beryl's vehicles, walking or using any other alternative method, we hope to see as many people as possible enjoying safe, sustainable travel."
Beryl encourages safe and responsible riding of all its devices. Riders must be 16 or over and hold a UK-valid provisional or full driving licence to ride e-scooters.