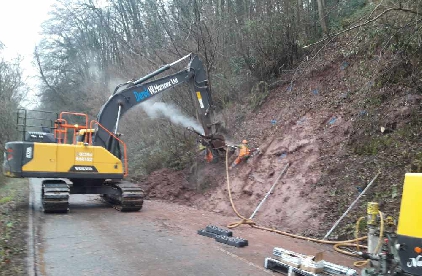 Works on the Wyndcliff site between Tintern and Chepstow are due to come to an end.
The removal of the closure and reopening the road will take place by the close of today. This follows weeks of work to stabilise the cliff adjacent to the road.
There are a number of outstanding works that will need to be complete and Monmouthshire County Council will need to temporarily reinstall two-way lights for a short period to allow the workers a safe area to complete these works.
There were plans to complete repair works on another section of bank near to Tintern under the current closure but due to ecological issues the works could not be started. Unfortunately, workers will have to return to complete these works at a later date but it is hoped that this can be done without a further closure.
Councillor Jane Pratt, Cabinet Member for Infrastructure and Neighbourhood Services said: "We are pleased to have completed these essential safety works and be able to re-open this important part of our road network. We would like to thank residents and business owners for their patience during this time.