Sunshine Food Bank Appeal 2018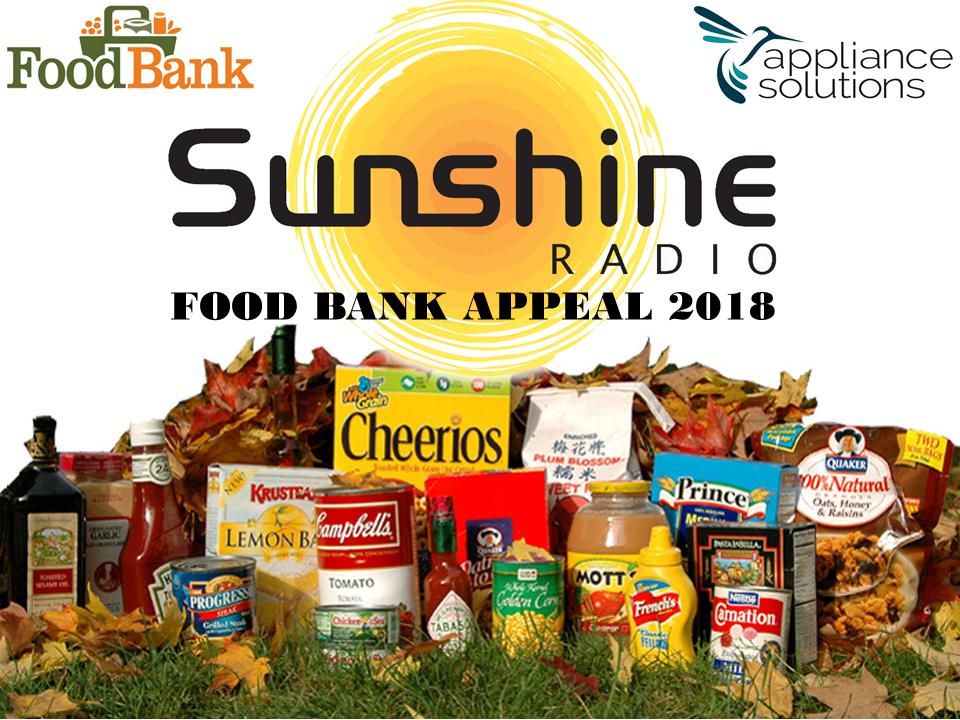 Throughout September, we're supporting the local food bank's across the region with our friends at Appliance Solutions.
Local food banks help hundreds of people each year. Across the UK over 1.3 million people have been helped over the last 12 months. In total over 8 million British people are in poverty through no fault of their own.
The top reasons why people use a food bank is because of an issue with benefits, or there's some kind of budgeting or debt problem.

Next time you're buying groceries maybe you could help by purchasing a few tins of food, or some essentials like toothpaste, toilet rolls and deodorant.
Just a little help and a tiny bit extra in your food shop could make all the difference in someone else's quality of life.
Official Drop-Off Points

Hereford
Hereford Food Bank in Aubrey Street
Tesco Belmont
Tesco Bewell Street
All Saints Church
Waitrose
Asda
Co-op Stores [Grandstand Road, Holmer Road, Ledbury Road, College Road, Whitecross Road]
Ledbury
Appliance Solutions
Tesco
Co-Op [New Street]
Katherine Hall between 10am and 12pm on Wednesday and Friday.
Ross on Wye
St Mary's Church on Tuesday's and Thursday's.
Leominster
Co-op
Aladdin's Shop
Leominster Community Centre
Forbury Chapel
Cuplings Coffee Bar and Shop [Platform 1 at Leominster Railway Station]
Ludlow
Rockspring Community Centre
Methodist Church
St Lawrence's Church
One Stop, Tower Street
White Stuff, Castle Square
Cleobury Mortimer
Richard's Church
Stoke St Milborough Church
Elim and Living Waters Churches, Ludlow
Abergavenny
Tesco Metro
Morrisons
Lloyds Bank, Cross Street
Abergavenny Natural Therapy Centre, 12 Cross Street, NP7 5EH
Citizens Advice Bureau, 19 Cross Street
Serendipity, 36 Frogmore Street
The Barber Shop, 37 Frogmore Street
Abergavenny Library, Baker Street
R. George Davies Solicitors, Neville Street.
One Stop Shop
Monmouth
All Churches in Monmouth
Waitrose
Coop
Monmouth Community Hub (based in the library)

Sunshine Radio Food Bank Appeal - kindly supported by Appliance Solutions in Ledbury.
Hereford

Sunny

High: 16°C | Low: 5°C

Ludlow

Sunny

High: 16°C | Low: 7°C

Abergavenny

Sunny

High: 16°C | Low: 7°C

Monmouth

Sunny

High: 16°C | Low: 6°C